Some Things Never Change: Blagojevich Lawyers Play Race Card On Jury Selection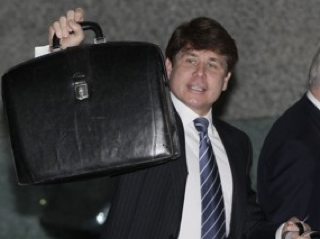 Remember Rod Blagojevich? He was a tragic hero for a different, more innocent time, a delightfully delusional corruptocrat who to this day denies that taped evidence of him selling a U.S. Senate seat does not, actually, prove that he did any such thing. Well, he somehow didn't get fully indicted the first time around and the Illinois courts are trying to round up new jurors and even before the trial has started, Blago's lawyers are playing the race/class cards.
As with anything Blagojevich, the jury selection process has somehow already become a circus. One potential juror was let off the hook for having tickets to Oprah; several others have been released on economic reasons. The Washington Post reports that, in this latter pool, several have been African-American, which sent Blagojevich's lawyers into a tizzy:
After the government asked Zagel to dismiss an unemployed man who said he spends his days watching reruns of "The Beverly Hillbillies" and who struggled to express himself during his interview, defense attorney Sheldon Sorosky bristled. "Maybe he didn't speak King's English . . . but we would be developing a class standard if we don't let him serve," Sorosky said. He added that prosecutors seemed to want only people who could "be depicted in a Norman Rockwell painting" as jurors. […]

The defense threw race into the mix after prosecutors moved to exclude a woman business owner, citing her claim of financial hardship. Sorosky suggested the real reason was because the woman is black. "This woman also happens to be a woman of color, and we are also removing these people from the jury," Sorosky said.
Needless to say, it appears the Blagojevich defense strategy of "everyone except our client is racist" has hit a bit of a road bump. That said, fewer than five potential jurors going to the final round are black; the Post reports the one juror who saved Blagojevich from 23 of the corruption counts against him was also black, which may influence Blagojevich's strategy. Either way, if this is the way the completely procedural jury selection process is shaping up, this trial may be even more preposterous than the one preceding it.
Have a tip we should know? tips@mediaite.com