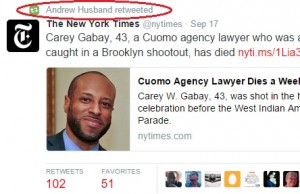 On Thursday morning, I came across a New York Times tweet reporting the death of Carey W. Gabay, an aide to New York Gov. Andrew Cuomo's agency. He'd been shot in the head by a stray bullet the morning before the West Indian American Day Parade in Brooklyn.
It's a sad story, to be sure, but the NYT article was an update to an ongoing story that I'd been following. Without thinking, I quickly skimmed the article and retweeted the NYT tweet before catching up with the morning's news.
According to Gizmodo's Kate Knibbs, my retweet is essentially an endorsement — despite the popular "RTs ≠ endorsements" cautionary note most Twitter users put in their bios. Whether this means my retweet endorses the NYT's reporting, their Twitter account operator's wording, or the accidental shooting death of Gabay remains to be seen. All of these conclusions (and more) could be drawn about me based on this post.
Or at least that's the way things are in the eyes of the FBI, whose most recent anti-ISIS sting involved the arrest of a 22-year-old man in Queens suspected of wanting to join the Islamic State. Of the evidence cited in the official complaint, a lot of it comes from Twitter — specifically retweets of notable ISIS-run Twitter accounts.
As Knibbs points out, this isn't the first time the FBI has used Twitter as evidence against suspected domestic terrorists and ISIS sympathizers. A 17-year-old Virginia student was arrested in June for running several ISIS Twitter accounts. A month later, two people in Mississippi were apprehended after authorities discovered their intentions to join the Islamic State in Syria. Again, Twitter was used as evidence.
More than social media was used as evidence in these cases, obviously. However, the Queens incident's reliance on retweets poses a major issue, for Twitter users retweet all the time. And while most cases aren't as extreme as retweeting an official ISIS account's proclamations, the implications of "RTs = endorsements" are unsettling.
Knibbs spells the problem out at length:
Plenty of people retweet pro-ISIS tweets for other reasons; to draw attention to how prevalent they are, for instance, or to ridicule them. People retweet horrible shit all the time and it's not cause for arrests: Lots of people started retweeting Dzhokhar Tsarnaev after they found his Twitter account after the Boston bombing, but these were more "Look! I found this guy!" gestures than a sudden surge of simpatico intentions.
Even with the added example of the younger Boston Marathon bomber, however, such examples remain on the intense end of the spectrum. What about all the people who, after Donald Trump's two-year-old tweet about Sept. 11 went viral, searched high and low for additional "haters and losers" tweets and retweeted them? Were they endorsing the Donald's preferred mode of attack, as many do, or were they simply responding to the day's big internet story? (Was it all "just a little too ironic"?)
Again, what about my Gabay retweet? What if I posted it because I didn't endorse the NYT's reporting? What if I didn't like the tweet's wording and was trying to call attention to the fact? What if I did endorse the Cuomo aide's shooting death? These are are all bullsh*t implications, obviously, but they are still implications one could make.
This begs the question, what else have I retweeted recently that could be misinterpreted as an endorsement?
Maybe I would like the debates to be actual political debates, maybe not:
oh my god SHUT UP ABOUT POLLS AND TELL US SOMETHING OF IMPORTANCE

— Josh Feldman (@feldmaniac) September 17, 2015
Maybe I would actually watch a TV show with Trump and Jeb Bush, maybe not:
Still wishing last night's debate had ended like this. pic.twitter.com/ftjRq8JbhD — Dave Itzkoff (@ditzkoff) September 17, 2015
Maybe I want Beyoncé on all American currency, or just one piece of currency, or none of the above:
PUT BEYONCE ON ALL OF OUR MONEY. #GOPDebate

— Funny Or Die (@funnyordie) September 17, 2015
Maybe I think the British actually do have a giant bomb attached to a rocket hidden in plain sight:
BREAKING: The British appear to have developed some sort of giant bomb, possibly attached to a rocket. pic.twitter.com/KMAltDZvP7 — Danger Guerrero (@DangerGuerrero) September 16, 2015
Maybe I really enjoy Apple's "brief, fleeting [moments] of excitement":
Apple Releases Brief, Fleeting Moment Of Excitement http://t.co/LAoczPlY4E pic.twitter.com/Yj3pvE6Ypf

— The Onion (@TheOnion) September 9, 2015
The point being that, when the line between "RTs ≠ endorsements" and "RTs = endorsements" becomes this legally blurry, then maybe we ought to rethink our tweeting practices. At least that seems to be the unintended message we're being sent by the FBI's investigative methods in Queens.
Not that it matters, because I'm fairly certain that I won't stop finding and retweeting Trump's gloriously terrible posts about haters, losers and winning at everything. It's just too much fun.
[h/t Gizmodo]
[Image via Twitter]
— —
>> Follow Andrew Husband (@AndrewHusband) on Twitter
Have a tip we should know? [email protected]