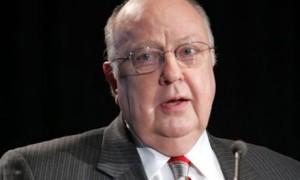 In a move not dissimilar from the New York Post trying to will Eliot Spitzer back into office with a series of scantily sourced front page stories, Politico reported earlier that friends of Fox News president Roger Ailes are encouraging the businessman to consider a run for President of the United States in 2012. Politico Click — the new, gossipy wing of the highly influential D.C. site and local newspaper — originally had the chatter in a piece entitled "Friends Push Ailes for President."
Then, Ailes laughed it off with a quote through an aide: "This country needs fair and balanced news more now than ever before, so I'm going to decline a run for the presidency. Besides, I can't take the pay cut."
The day's first rumor-mongering piece cited "top sources" who pointed to Ailes' "aggessive, winning personality," with little substance. "I have known Roger Ailes for 29 years," says Republican strategist and pollster Frank Luntz. "No one knows how to win better than Roger." Winners do make good presidents! Ailes began his career as a Republican consultant under Ronald Reagan and George H.W. Bush, but has spent the past decade in television.
Talk of an Ailes run, which informed sources said is based on more than mere speculation, could escalate the White House war with Fox war in wildly unpredictable – and fun – ways.

It was Ailes who recently held a private meeting with top White House adviser David Axelrod to ease tensions. The meeting was not a success.
Ailes is currently 69 years old, which would make him 72 by the time the election rolls around (the same age as John McCain last year), but being a tad on the old side is the least of his problems. Obviously, he'd need to be interested independently of this pretty shameless Politico click-grab and then, he'd need to find appeal outside of an echo chamber of cable news devotees. Though politicians frequently work the "no plans to run" line in the press when they are clearly planning a run, we're going to choose to believe Ailes on this one.
Apologies to any Fox fans who were trusting enough to get excited.
Have a tip we should know? tips@mediaite.com