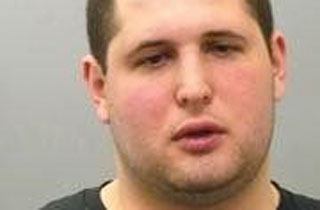 A reserve officer who worked in St. Louis county quit his job today after he was arrested for drunk driving, blaming his drinking on the stresses of the events in Ferguson.
According to the St. Louis Post-Dispatch, Jacob Klaus, a part-time officer for the nearby town of St. Ann, was arrested last Saturday after he crashed his Dodge Dakota into a house in St. Louis. Days later, Klaus handed in his resignation to St. Ann Police Chief Aaron Jimenez, stating that he had a drinking problem:
Jimenez said Klaus was apologetic and said he started drinking after spending time volunteering with the department for shifts in Ferguson.

"He felt it was a lot of pressure on his life, a lot of negativity," Jimenez said.

The chief said he believes the officer's claim that he started drinking after Ferguson.

"That's what he said, and we had zero problem with him before," Jimenez said. "He was not a drinker and had no substance abuse when he took the lie detector test" before being hired.

Jimenez said the stresses of Ferguson, where officers were berated by protesters and felt under constant threat, had taken its toll.
Prior to his resignation, Klaus's part-time job involved relatively minor duties, such as traffic detail and prisoner transport. "He would work on patrol with no pay and had been with the department about 1½ years," the Post-Dispatch noted, with Jimenez confirming that Klaus hoped to eventually be hired by the department.
You know what happened in Ferguson; we don't really need to recap it for you at this point. But needless to say, it was not a good time to be a cop.
[The St. Louis Post-Dispatch]
[Image via St. Louis Police Department]
—
>> Follow Tina Nguyen (@Tina_Nguyen) on Twitter
Have a tip we should know? tips@mediaite.com