Staten Islanders Jeer All Over Facebook Post Asking Where Trump Should Eat On the Island
As he tours the state responsible for his unique value system, Donald Trump is making a stop on Staten Island. He has already upset a few of the locals with an island-specific gaffe, but his impending visit to the borough is still newsworthy. That's why the Staten Island Advance has been trying to whip up some excitement ahead of the big event.
They asked a simple question…
…and got a lot of attitude.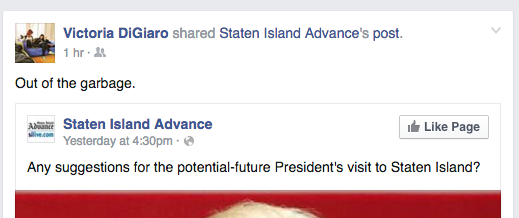 Others took to the comments on the original post to offer up a few suggestions. There was a common theme. See if you can spot it.
User Jay C. with 55 likes:
The taco truck on Port Richmond & Castleton across the street from the immigration building
With 33 likes, Janessa R.:
Some place where there's lots of Mexicans cooking
12 likes went to this post by Jason S.:
He should go to a Mexican place on Port Richmond Ave and find out most immigrants aren't murderers and rapists. Then he should drink Kill van Kull water for dessert.
As of this writing, John R. only had one like, but this post could still come up from behind:
He'll be at the Hilton where the kitchen is full of Mexicans and Latinos, I think he will Brown bag it
Stephanie S. and her eight likes proved my point about people not liking the Eric Garner invocation:
The Spanish spot right down the block from where Eric Garner died since he wants to mock his last words and its across the street from the welfare building.
Here's Joe M.:
On the corner of Port Richmond Ave with the Mexicans!!
Some others invited him to Sunday dinner or suggested Italian restaurants, but the vast majority referenced Mexicans or the famed Staten Island dump. Surprisingly, none of them utilized the #DumpTrump hashtag popularized on Twitter. Talk about your missed opportunities.
[image via screengrab]
For more from Lindsey, follow her on Twitter.
Have a tip we should know? tips@mediaite.com