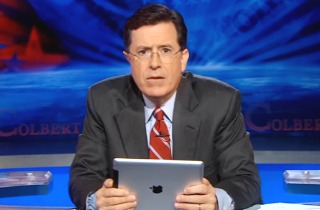 Apple is holding one of its big Shut Up and Take My Money events today, and it ended up featuring a surprise celebrity cameo: Stephen Colbert. Colbert has repeatedly demanded Apple products on his show in the past, and even bragged about his iPad when he presented at the Grammys.
Craig Federighi was demonstrating the interconnectivity between Apple's devices, and placed a call directly to Colbert, who was identified as Apple's new "chief of security." Colbert called him "Chairman Honeycrisp" and declared he wants his new title to be either "Supreme Allied Commander of Super Secrecy" or "Intergalactic Chancellor."
And also, this:
Stephen Colbert cameos at the Apple launch to complain about the Watch delays. "You know what I see when I look at my wrist? My wrist!"

— Tim Bradshaw (@tim) October 16, 2014
Reactions were mixed:
An Apple exec and Stephen Colbert are doing an entire comedy routine on stage, over the phone. This is the Dad-jokiest company in tech.

— Farhad Manjoo (@fmanjoo) October 16, 2014
So Apple has NBC's 11:30 host Jimmy Fallon doing iPhone commercials, and CBS soon-to-be 11:30 host Stephen Colbert as "chief of secrecy"

— Alex Weprin (@alexweprin) October 16, 2014
Currently holding back vomit on Craig's GODAWFUL acting for this Stephen Colbert call…Yikes. #appleevent

— Emily Razi (@youcanspellthis) October 16, 2014
Craig Federighi and Stephen #Colbert chatting about #Apple security. Funniest Apple keynote moment EVER. pic.twitter.com/6PTSwMyRgy

— Roderick Vonhogen (@FatherRoderick) October 16, 2014
Stephen Colbert on the phone with Craig Federighi right now, which is like a hairsplosion of forced humor that threatens to consume us all.

— Molly Wood (@mollywood) October 16, 2014
Phone call between Craig Federighi and Stephen Colbert is HISTERICAL. And made from a Mac!

— MacTrast (@MacTrast) October 16, 2014
Give Colbert and Craig a buddy romcom

— leslie (@LesHorn) October 16, 2014
And if you need to see how it looked for everyone inside, here's a picture:
Craig calls Colbert at #appleevent http://t.co/Uqz4lXeABq pic.twitter.com/sqp8c9645B

— Re/code (@Recode) October 16, 2014
So that happened.
Update- 2:12 pm: Here's video of the bit:
[image via screengrab]
— —
Follow Josh Feldman on Twitter: @feldmaniac
Have a tip we should know? tips@mediaite.com
Josh Feldman - Senior Editor