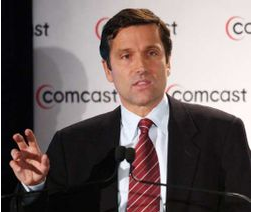 It's official. NBCU and Comcast announced today that Steve Burke will replace Jeff Zucker when he departs after the Comcast merger takes place. Burke is currently the COO of Comcast and formerly president of Comcast Cable. Nikki Finke, meanwhile, would like you to know she's been predicting it all along.
Unlike Jeff who was widely regarded in Hollywood and NYC as a pretender to the throne, Steve is true showbiz royalty by blood. He's the son of Dan Burke, the former president of Capital Cities/ABC before it was bought by Disney. The younger Burke graduated with an MBA from Harvard Business School joined Disney in 1986 and founded Disney Stores, then served as president of Euro Disney. He kept rising and became ABC broadcasting president. But left 10 years ago to join Comcast, where Steve was the architect of the largest cable company's 2004 hostile takeover attempt of Disney.
Read the official announcement below.
COMCAST AND GE NAME STEVE BURKE CHIEF EXECUTIVE OFFICER OF
NBC UNIVERSAL

PHILADELPHIA, PA and FAIRFIELD, CT – SEPTEMBER 26, 2010 – Comcast (NASDAQ: CMCSA, CMCSK) and General Electric (NYSE: GE) announced today that Stephen B. Burke will become chief executive officer of NBC Universal (NBCU) upon the close of Comcast's acquisition of 51% of NBCU from GE.

Burke, 52, would succeed NBC Universal President and CEO Jeff Zucker, who will continue to serve in his position until the close of the transaction and will work with Mr. Burke to ensure a smooth leadership transition. Comcast and GE also said that there will be no additional structural or personnel announcements until the deal closing process and timing is certain.

Comcast Chairman and Chief Executive Officer Brian L. Roberts said, "Steve Burke is an experienced, talented and visionary leader with over 25 years in the media and entertainment industry. Steve is one of the most well-respected executives in the industry, and I am confident that he will lead NBCU forward to a new era of growth."

GE Chairman and Chief Executive Officer Jeff Immelt said, "I have known Steve Burke for many years and greatly respect him. He has deep expertise in this industry and I am very confident that he will be a strong leader for NBC Universal."
Have a tip we should know? tips@mediaite.com