Stoneman Douglas Students Completely Unimpressed by Betsy DeVos Visit: 'I Don't Understand the Point'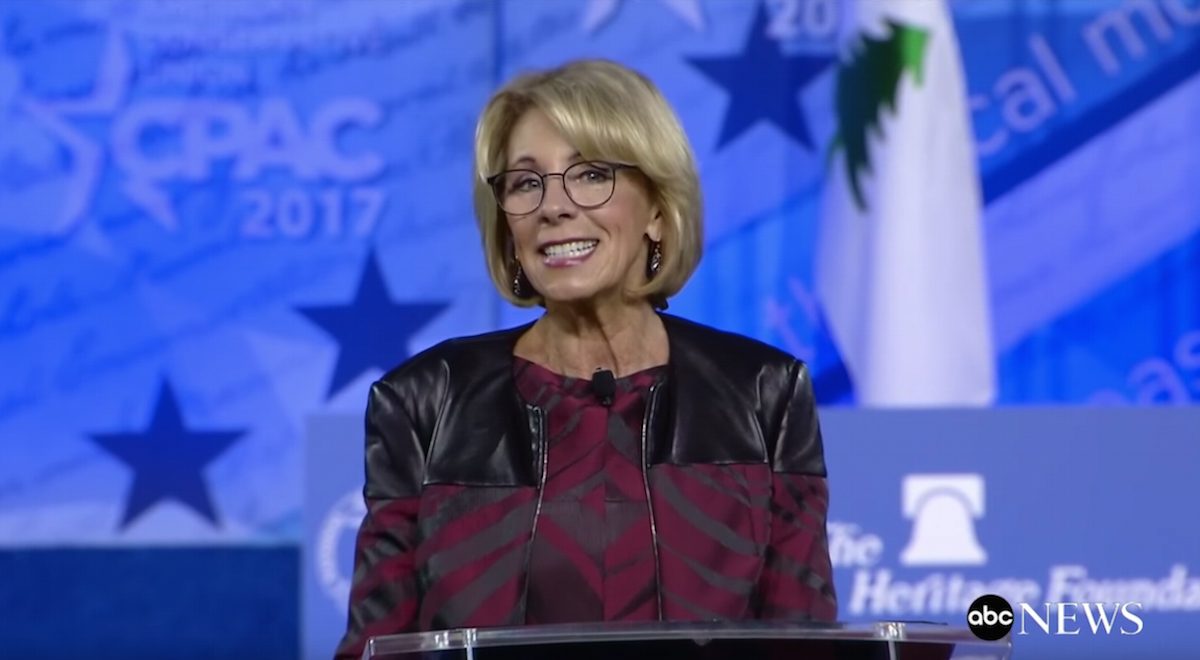 President Donald Trump's handpicked Secretary of Education, Betsy DeVos, visited Marjory Stoneman Douglas High School today, in the aftermath of last month's deadly massacre.
You'll never guess how the visit was received by the still-grieving students (spoiler alert: poorly.)
The Parkland students, many of whom have been actively engaged in the fight for gun reform since the shooting, were supremely disappointed that DeVos didn't seem all that interested in addressing their concerns, answering five short questions before going on her way.
Some students even accused her of refusing to even meet or speak with them. She did, however, pet a dog, according to one current Stoneman Douglas student. That's something.
A reporter asks @BetsyDeVos if she made any promises to the Parkland students this morning. This was her response. pic.twitter.com/gCmBbQDb1Q

— Andrew Kimmel (@andrewkimmel) March 7, 2018
DeVos, who was accused by some students of using the visit as something of a photo op, told a reporter afterwards that she "would love to come back in an appropriate amount of time and just sit down and talk."
As expected by this extremely tech-savvy student body, many took to social media to make their displeasure known about DeVos's short visit.
Betsy Devos came to my school, talked to three people, and pet a dog. This is incase the press tries to say something else later

— Alanna//#NEVERAGAIN (@AgCI3Cu2) March 7, 2018
I thought she would at least give us her "thoughts and prayers," but she refused to even meet/speak with students. I don't understand the point of her being here

— carly (@car_nove) March 7, 2018
Lol pic.twitter.com/w1SPBbrHnr

— Lex (@lexforchange) March 7, 2018
Do something unexpected: answer our questions. You came to our school just for publicity and avoided our questions for the 90 minutes you were actually here. How about you actually do your job? #neveragain #DoYourJob https://t.co/4Ts0INq0gR

— Aly Sheehy? (@Aly_Sheehy) March 7, 2018
Secretary of education Betsy Devos spoke to me and only a hand full of students. She did not properly answer my only question. She did not sit down with any students and asked what we wanted. Douglas has 3,000 students. None of them were invited. pic.twitter.com/1RXYDZJtTb

— Kyra (@longlivekcx) March 7, 2018
Some of the higher profile Stoneman Douglas students didn't even bother to attend, suggesting that she was not asked to appear at the school in the first place.
Literally no one asked for this https://t.co/79A54IbIht

— Sarah Chadwick// #NEVERAGAIN (@sarahchad_) March 7, 2018
Good thing I was already planning on sleeping in tomorrow https://t.co/Oy6ALcDHLZ

— Emma González (@Emma4Change) March 7, 2018
When questioned about the reason for her visit, DeVos said "I was just there to be there — to be with them."
[image via screenshot]
—
Follow Lawrence Bonk (@sidescrollers) on Twitter
Have a tip we should know? [email protected]