Survivor Files Suit Against Huckabee for Using 'Eye of the Tiger' at Kim Davis Rally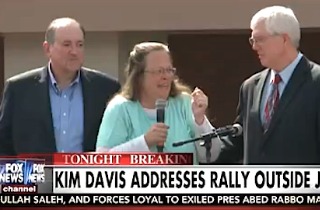 Remember how Mike Huckabee made a grand affair about defending Kim Davis' defiance of gay marriage effort and attended her release from jail? Well, it turns out Survivor frontman Frankie Sullivan did, and he's not happy with the 2016 hopeful's use of 'Eye of the Tiger' at the rally he held in celebration.
Back in September, Sullivan took to Facebook to blast Huckabee's use of his hit song, and said the band might consider legal action against him and Davis for using it without getting the rights. As it turns out, a federal lawsuit was filed by Rude Music Inc., yesterday, and it seems Sullivan is serious in taking Huckabee to court for copyright violations.
When Davis was jailed for repeatedly acting in contempt of court, Huckabee led her out and proclaimed that he would take her place if someone had to go to jail. This is not the first time the members of Survivor showed displeasure with their song's use in socio-political events, for MSNBC noted that they sued Newt Gingrich when he played it at his rallies in 2012.
The Daily Caller received an email from Hogan Gidley, Huckabee's senior communications adviser, who said the campaign intends to fight the lawsuit.
"Mr. Sullivan is demanding an amount of money that exceeds the average yearly salary of a hard-working American simply because a snippet of his song was played briefly at a rally," the email said. "The campaign offered Mr. Sullivan fair compensation, but that offer was rejected. We refuse to be bullied."
[Image via screengrab]
— —
>> Follow Ken Meyer (@KenMeyer91) on Twitter
Have a tip we should know? tips@mediaite.com