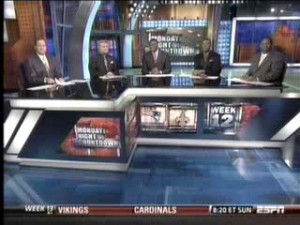 There was a moment on Monday night while watching ESPN in anticipation of their New Orleans Saints-New England Patriots much-hyped (and hugely-watched) game, when I came to a realization: there's way too many people involved in this 90-minute show.
It's time to take action – and start voting some people off, Survivor-style.
Welcome to the first week of Survivor: Monday Night Countdown – where each week we eliminate some of the parts to this crowded studio pre-game show until we're left with just the most necessary pieces.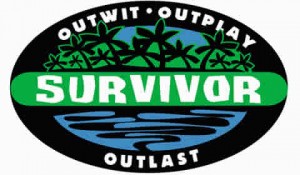 Before we get to our contestants and tribal council, let's address the problem on a larger level. The idea that 'more is better' when it comes to television in general. CNN led the cable news charge during coverage on election nights, featuring as many of their "Best Political Team on Television" as they could pack into their expansive studio. Here's one night they got 15 in.
And the expansion of studio pre-game shows in sports is something that crosses all networks. When NBC started Football Night in America, it too would add more and more people to the studio and the show in general, until finally, this year, they've consolidated a bit – to a more manageable 10 or so.
But ESPN – happy to have Monday Night Football on cable and ready to take advantage of the opportunity – has gone overboard. Here's the breakdown of the 15 regular contributors to the show:
The main studio team:
• Chris Berman – the nickname-ful team leader
• Tom Jackson – his sidekick
• Mike Ditka – "coach"
• Keyshawn Johnson – the eccentric ex-wideout
• Cris Carter – the new guy
The field talkers:
• Stuart Scott – "boo-yah" team leader
• Steve Young – the serious ex-QB
• Matt Millen – the formerly unsuccessful GM
The Monday Night Football anchor team (they count – they're involved in the show. If they get voted out, they don't have to leave MNF, just the pre-game show)
• Mike Tirico – the play-by-play anchor (go cuse)
• Ron Jaworski – the color analyst
• Jon Gruden – the new edition
The inside guys:
• Chris Mortensen – the veteran inside guy
• Adam Schefter – the new inside guy
The field reporters:
• Suzy Kolber – the field reporter Joe Namath wanted to kiss
• Michele Tafoya – the other field reporter
And now the contest:
Because we're a little late to start voting people out this year, we'll have to work overtime. Each week, after this one (we'll ease into it), we'll extinguish the fire sticks of two members of the team. To aid in this decision, we'll provide ample quotes that show how interesting and valuable a person is and some quotes that make you say, "C'mon, man!" (Monday Night Countdown joke). This week though, we think you'll do fine making the decision based on the previous 12 weeks.
Cast your vote early and often. We'll have the results before the team hits the air at 7pmET on Monday!:


—–
» Follow Steve Krakauer on Twitter
Have a tip we should know? tips@mediaite.com