Taj Mahal School? Los Angeles Unveils Costliest Public School Ever Amid Budget Crisis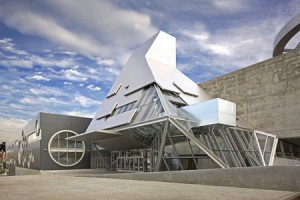 The Los Angeles Unified Public School district is not immune the budget crunch facing other California municipalities. In fact, students are starting classes one week later than normal as a means to save money. Which makes the unveiling of a new, $578 Million public school – reported to be the most expensive public school in history – worthy of a blaring headline on the Drudge Report, and a likely late August news story for a nation growing weary of the Ground Zero Mosque story.
The Robert F. Kennedy Community Schools open next month, and will generate news for a variety of reasons, not least of which is the record-breaking price tag. The school was built on the former spot of the Ambassador Hotel, the very location where the school's namesake and former Democratic presidential contender was shot and killed in 1968.
Writing for the Associated Press, Christina Hoag reports:
With an eye-popping price tag of $578 million, it will mark the inauguration of the nation's most expensive public school ever.

The K-12 complex to house 4,200 students has raised eyebrows across the country as the creme de la creme of "Taj Mahal" schools, $100 million-plus campuses boasting both architectural panache and deluxe amenities.

"There's no more of the old, windowless cinderblock schools of the '70s where kids felt, 'Oh, back to jail,'" said Joe Agron, editor-in-chief of American School & University, a school construction journal. "Districts want a showpiece for the community, a really impressive environment for learning."

Not everyone is similarly enthusiastic.

"New buildings are nice, but when they're run by the same people who've given us a 50 percent dropout rate, they're a big waste of taxpayer money," said Ben Austin, executive director of Parent Revolution who sits on the California Board of Education. "Parents aren't fooled."

At RFK, the features include fine art murals and a marble memorial depicting the complex's namesake, a manicured public park, a state-of-the-art swimming pool and preservation of pieces of the original hotel.
The very expensive school follows other L.A. schools that also raised eyebrows for their very expensive pricetags: the Edward R. Roybal Learning Center opened in 2008 and reportedly cost $377 million; and the Visual and Performing Arts High School opened last year at a reported cost of $232 million. But these educational institutions have been developed and built during a critical time for the L.A. public school system, the nation's second largest. Over the past two years, almost 3,000 teachers have been laid off and many programs have been cut in anticipation of a reported $640 million budge shortfall.
Have a tip we should know? tips@mediaite.com