Tarantino's Anti-Cop 'Murderers' Rhetoric Comes Back to Haunt Hateful Eight at Box-Office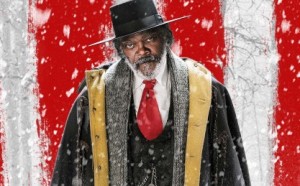 Quentin Tarantino's latest film, The Hateful Eight, seemed doomed to underperform. And the reasons why are clearly self-induced…
In case you haven't heard, despite an aggressive ad campaign, no new competition on the weekend of release and the famed director getting plenty of free press for weeks after controversial comments made against police officers at a insensitive Black Lives Matter rally in October, The Hateful Eight debuted last weekend as the lowest-grossing Tarantino film in nearly 20 years (Jackie Brown, 1997).
Note: $16 million and a third place finish for an opening weekend is still decent, but the film still fell short of analysts' expectations by 20 percent. And when compared to other Tarantino films lately, the number looks even worse: Inglourious Basterds pulled in $38 million its opening weekend, while Django Unchained chalked up $30.1 million. Both were nominated for Best Picture. So when a Tarantino film — and he owns one the greatest of all-time via Pulp Fiction — does roughly half of its predecessors despite good reviews (audience score of 79 on Rotten Tomatoes), it becomes noteworthy.
Reason #1 for falling well short at the box office lies at the feet of the film's backer, Harvey Weinstein. For whatever reason and clearly knowing better given his time and success in the business, the 62-year-old studio head decided it was a wise move to release the movie during the same holiday period as what many were calling ahead of time the biggest movie ever in the form of Star Wars, The Force Awakens (current gross already: 1.6 billion). Here's what Weinstein told Variety:
"We're living in a 'Star Wars' universe. I love 'Star Wars.' I think it's great. It's not sour grapes, but if I'm writing a memo to myself, I would say 'do not open against 'Star Wars.' Do not open against the biggest movie of all time."
A fair point, but the mostly-panned Will Ferrell/Mark Walberg offering (Daddy's Home) took home nearly twice of Hateful Eight up against Star Wars as well ($29 million opening weekend). So while Star Wars is to movies what Donald Trump is to media coverage (See: dwarfing everyone), it isn't the sole reason for Hateful's relative failure.
And that brings us back to Tarantino's tough media stretch starting in October, when the Oscar winner decided it was a great idea to march in a Black Lives Matter protest in New York City after another police officer in the city — an African-American one, no less — was killed in the line of duty four days prior. As you can imagine, tensions were obviously high and people were still mourning the loss of 33-year-old Randolph Holder, who was shot in the head in East Harlem by career criminal Tyrone Howard. Holder's father and grandfather were policeman before him in his native Guyana.
So with that narrative at the forefront of the New York media, the geniuses behind Black Lives Matter decide to hold a mass protest just one day after Officer Holder was buried. Tarantino not only marches, but also shares his perspective in a speech that also included this gem:
"When I see murders, I do not stand by. I have to call a murder a murder, and I have to call the murderers the murderers."
Unless, of course, the murdered happens to be wearing a uniform. Reaction was swift from police unions of several major cities across the country, who very publicly called for a boycott of the film. Per the New York Times:
A call for a police boycott of the Weinstein Company's coming film "The Hateful Eight" and other works by Quentin Tarantino has gained support from the National Association of Police Organizations and the New Jersey State Policemen's Benevolent Association, expanding the backlash to remarks about police violence that Mr. Tarantino made at a rally in New York on Oct. 24.

The boycott — which had already been endorsed by police organizations in New York, Los Angeles, Philadelphia and elsewhere — picked up considerable strength with the endorsement last week by the national police group.

The organization represents more than 1,000 police units and at least 241,000 law enforcement officers. In a statement posted Thursday on its website, the group objected to what it called Mr. Tarantino's "anti-police rhetoric," and asked supporters both to boycott his films and to refuse to provide security or technical advice for his future projects.
The extent of how much this had a direct affect on ticket sales is impossible to quantify, but logic dictates Tarantino did himself no favors and lost potential ticket-buyers by making that comment above. And instead of apologizing, the director doubled down one week later.
"I'm not being intimidated," he told The Los Angeles Times. "Frankly, it feels lousy to have a bunch of police mouthpieces call me a cop hater. I'm not a cop hater. That is a misrepresentation. That is slanderous. That is not how I feel … I'm not taking back what I said. What I said was the truth."
Well, there's another truth out now: Quentin Tarantino's newest offering will be his worst-performing in nearly two decades despite having the biggest box office generator ever starring in it (yup, a great trivia question to ask: Who is highest-grossing actor in history? Answer: Samuel L. Jackson).
Poor timing on the release? Yes, but only to a point.
A backlash — even a boycott — against the director from those who don't like to hear about cops being labeled "murderers" in the same city that just buried one a day earlier?
A much more likely reason…
— —
Follow Joe Concha on Twitter @JoeConchaTV
This is an opinion piece. The views expressed in this article are those of just the author.