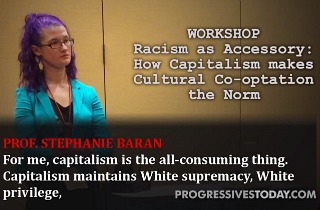 The Wisconsin Department of Public Instruction, the University of Wisconsin System, and the City of Madison recently held a contest in which educators competed with one another to see who could say the craziest, most offensive things. Or, at least, you could be forgiven for thinking that after watching the following video. Anyone walking into something billed as a "white privilege conference," however, should probably know they are about to enter the Twilight Zone.
Footage of the White Privilege Conference, obtained by the Education Action Group, features a variety of speakers and organizers confirming cancerous biases by issuing one reckless and tasteless statement after the next.
During a discussion on the nature of white privilege, for example, Iowa University Law Professor Adrien Wing spent a large portion of her time attacking the Supreme Court's only African-American justice, Clarence Thomas, as a "disgrace to the memory of Thurgood Marshall."
She went on to attack another prominent African-American figure: President Barack Obama. Wing insisted that, contrary to popular belief, Obama is "the face of global white privilege."
"He ends up being the front man for the system," Wing asserted.
"So, instead of just saying were happy there's a black face in the White House," she continued, "it's like, no, the master's house has now a black face, but it's still the master's house. He works for the master of the system of white privilege."
This is the kind of sentiment which, outside of an academic context, was once considered naked racial antipathy. Similarly, one of the conference's seminars, "Jews, Class, Race and Power: How It's All Connected," might have been labeled anti-Semitic in another era. Fortunately, these speakers and organizers know that racism is something that exists only in the minds of everyone else.
There was also a block of time at this partially taxpayer-funded event dedicated to examining why members of the tea party movement are generally racist. "There has been a study, a longitudinal study, that finds the longer you are in the tea party, the more racist you become," said Leonard Zeskind, president of the Institute for Research & Education of Human Rights. He declined to cite his work, but you trust him, right?
Zeskind went on to assert that virtually all white people who live in primarily white neighborhoods are racist. This sentiment was echoed at another seminar on capitalism in which the participants insisted that this system of laissez-faire economics "maintains white supremacy."
To recap, everything and everyone is racist except, of course, this conference's race-obsessed speakers and attendees.
But the nuttiest moment of them all came at the end of this video when one of the unidentified conference organizers who describe herself as a sociologist escorts the individual taking this video out of a seminar in order to provide the conference's minority attendees with a "safe space." She proceeds to confess to him that there is nothing "intrinsically bad" in society, including racial discrimination or sexual violence.
"Would you define discrimination as something intrinsically bad?" the videographer asks.
"No I wouldn't say it's intrinsically bad," she replies.
"Rape isn't intrinsically bad?" he interjects.
"It's not," she replies.
Well, maybe not "intrinsically bad," but definitely super inconvenient. Maybe she's erecting an academic context around the concept of rape, like one might call the exploitation of low-lying woodlands along the coast of the Gulf of Guinea a "rape" of sorts… But it's doubtful.
Media Trackers reported that the MacIver Institute has learned that the University of Wisconsin System spent over $18,000 sponsoring this conference. The state's Department of Public Instruction contributed another $2,000.
Watch this Shocking Video via Progressives Today:
h/t Media Trackers
[Image via screengrab]
— —
>> Follow Noah Rothman (@NoahCRothman) on Twitter
Have a tip we should know? tips@mediaite.com