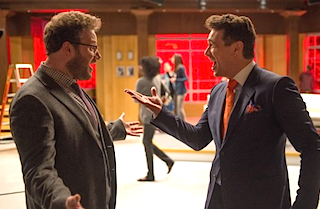 At this point, an exceedingly small number of people have had to opportunity to actually see the Seth Rogen–James Franco comedy The Interview. And unless Sony Pictures reverses their decision to keep it out of theaters and off the internet, then very few people will. But that hasn't stopped the film for receiving a near-perfect rating on IMDb.
It's all thanks to an anonymous message board post that went up on 4chan last Friday, reading, "go on imdb and rate the interview 10/10 to get it in the top 250. KIM JONG UN IS GONNA GET FUCKED BY THE LONG DICK OF FREEDOM."
So far, more than 26,000 users have weighed in, giving The Interview a 9.9 rating. That means it's better than The Shawshank Redemption, The Godfather Parts 1 and 2 and The Dark Knight. The rating has not yet been reflected in the IMDb Top 250, which currently tops out at 9.2. Likely, this is because the site factors in the number of votes and The Interview has not yet reached the million-plus tallies that the aforementioned films have.
But give it some time, and it could get there, whether people actually see the film or not.
Meanwhile, over on Rotten Tomatoes, critics who have actually seen the film give it a 53% rating. That's quite a bit lower than previous Rogen movies like 50/50 (93%), Knocked Up (90%) and Superbad (88%). But at least it's better than The Guilt Trip (38%). Unsurprisingly, 96% of Rotten Tomatoes users say they want to see the film.
[h/t Vulture]
[Photo via Sony]
— —
>> Follow Matt Wilstein (@TheMattWilstein) on Twitter
Have a tip we should know? tips@mediaite.com