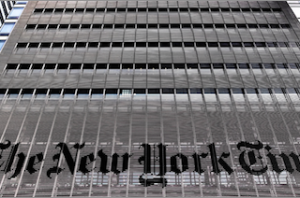 The New York Times is out with a fierce new editorial that calls on President Barack Obama to prosecute those responsible for the CIA's torture of suspected terrorists, and criticizes the president for failing to bring those responsible to justice.
"The nation cannot move forward in any meaningful way without coming to terms, legally and morally, with the abhorrent acts that were authorized, given a false patina of legality, and committed by American men and women from the highest levels of government on down," the editorial says.
These include, according to the Times, but are not limited to: former Vice President Dick Cheney, Cheney's former Chief of Staff David Addington, former CIA Director George Tenet, and former Justice Department lawyers John Yoo and Jay Bybee.
The editorial then shifted to the Senate Intelligence Committee's recently-released "torture report," which decried interrogation techniques used by the CIA including waterboarding, "rectal feeding," and sleep deprivation.
"These are, simply, crimes. They are prohibited by federal law, which defines torture as the intentional infliction of 'severe physical or mental pain or suffering.' They are also banned by the Convention Against Torture, the international treaty that the United States ratified in 1994 and that requires prosecution of any acts of torture."
Cheney and others who defend the tactics are "blinkered apologists," according to the editorial, which urges Obama to "authorize a full and independent criminal investigation."
But the Times acknowledges that it is unlikely for this to happen: "As hard as it is to imagine Mr. Obama having the political courage to order a new investigation, it is harder to imagine a criminal probe of the actions of a former president."
The editorial also slams Republicans, except for Sen. John McCain (R-Ariz.), for not wanting to hold the Obama Administration accountable on this issue.
The Times echoes a recent sentiment by Glenn Greenwald, who said President Obama is the reason why Cheney is not "in federal prison."
You can read the full editorial here.
[Featured image via Wikimedia Commons]
— —
>>Follow Andrew Desiderio (@forza_desiderio) on Twitter
Have a tip we should know? tips@mediaite.com