While doing image search after image search to satisfy the Power Grid's voracious appetite for photos, we here at Mediaite came upon a rather titillating discovery (and it's not that some people who work in the media can be whores for attention). Rather, a number of media professionals seem to have an odd connection to another seedy profession: pornography!
Allow us to clarify – there isn't a direct connection between journalists and adult film stars (that we know of). Nor are we saying that Rupert Murdoch got where he is today as a Media Mogul by showing a little skin. But for whatever reason there seems to be a very high incidence of media personalities sharing the same names of porn stars.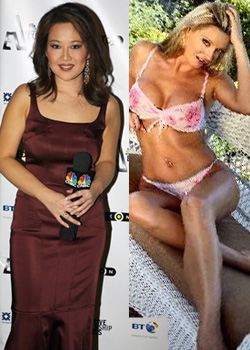 Let's start with Melissa Lee. She's the CNBC host who anchors Fast Money and occasionally Closing Bell. Coincidentally, she also just hosted their adult film special Porn: Business of Pleasure special that scared off some advertisers. But that belies her connection to another Melissa Lee who comes up in Google Image search: She of the lingerie modeling! Both are displayed to your left in occupation-appropriate attire.
While Melissa Lee's alter ego might be of the innocuous soft-core style, that certainly does not apply to Wall Street Journal reporter Emily Steel. While the WSJ's Steel has made guest appearances on NPR and D – All Things Digital, the other Emily has had some hard-hitting pieces of her own (on a rather crudely named oral sex website that we won't mention here),  not to mention some top-notch investigative work for the venerable Intensities in 10 Cities series.
Some other same-named reporters and porn stars (repornsters?) are:
Tracy Smith: CBS says she is a correspondent for CBS News Sunday Morning and also a reporter for the CBS Evening News with Katie Couric. But there is another Tracy Smith who has starred in Web of Seduction and Balls of Thunder.  (We truly recommend against attempting a Google Image Search at work.)
Brooke Anderson: Is not just the name of CNN's culture and entertainment reporter, as well as co-host of Showbiz Tonight, but also the name of "big (bosom) teen sensation." Good to know.
Jenna Lee is a Fox Business anchor — not to be confused with the star of Mind of a Horny Woman 4.
Josh Elliott: Proof that this list is not just for women, Josh Elliott is a co-anchor of ESPN's SportsCenter. But, if you drop one of the t's, you can easily come across the well-endowed star of Mating Season.
The list could go on and on, and we could even start stretching it to include close calls (this might include one "Anderson Pooper," although actually that's a cat. This link is totally safe for work). And the truth is that many of these are probably not the names given at birth, but rather chosen by ambitious "go-getters" eager to appeal to a mainstream audience. Who knows, the next time a local weatherman wants to make a move into a bigger media market, maybe that bluescreen behind him will start showing a different sort of high-pressure zones. If you know what we mean.
Jonah Bliss is an editorial intern at Mediaite.
Have a tip we should know? tips@mediaite.com