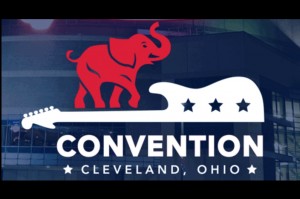 Thanks to recording options I have been able to follow the Republican National Convention on many different networks and all of them are perpetuating a big lie about Cleveland.
The report is that this convention is unprecedented for not including two past presidents from their own party, George W. Bush and George H.W. Bush. The implication is that the division at this convention is unprecedented and will lead to a loss in November.
Donald Trump may, indeed, not win in November. But if so, it will be more likely because of slanted, false, and sometimes incompetent, media coverage than a divided party.  Here are the facts.
The absence of the two Bush presidents is not new. Neither George W. Bush, nor George H.W. Bush were present at the last Republican National Convention in Tampa in 2012 when Mitt Romney was nominated.
Nor was either one present at the RNC in St. Paul, Minnesota in 2008 when John McCain was nominated.
In some cases this false narrative is the result of sloppy homework. Maybe it is the result of faulty memories, they did show a movie about George W. Bush and dad at the 2012 Convention, and they allowed a satellite connected speech by George W. Bush in 2008 but the reality is this has less to do with Trump, Romney and McCain than it does about George W. Bush and his unpopular war in Iraq and the economic collapse during the last year of his presidency.
Such moments are not limited to Republicans. Former President Harry Truman was so upset over the likely nomination of John F. Kennedy that he resigned as a delegate to the 1960 Democratic National Convention in Chicago. And in 1972, former President Lyndon Johnson was nowhere to be seen at his own Party's Convention in Miami Beach. Former President, Jimmy Carter, has been sometimes honored, sometimes marginalized at his Party's Convention, depending on the polls.
In some cases this false Trump-Bush narrative is pure, deliberate, misinformation.
One network host was careful to select his words, saying, "For the first time in forty years there has not been a Bush at a Republican National Convention."
He obviously knew full well that the story being repeated by pundits and fellow hosts, that the Bush presidents were absent for the first time, was false. Thus, he helped keep alive the idea of unprecedented exclusion and division without repeating the bogus facts. And the host could technically claim he had spoken the truth, without taking the time to correct his colleagues.
Americans have pretty much accepted the end of journalism in this country. We are now in an era that is not entirely unlike the Soviet Union during communism. Facts are open to change. Some thoughts or ideas are forbidden and never spoken aloud. Parents must have private conversations with their children about issues and must be careful even then. Media targets can be blindsided, without an opportunity to respond. And if all of this is happening to domestic events that are in full view, just imagine the misinformation about issues worldwide?
So, here you go, a gift of love to my tiny, well informed, WordPress audience. At least you shall know. George W. Bush and George H.W. Bush are not in Cleveland. But they were not in Tampa or St. Paul, Minnesota either. And that big voice vote brouhaha on the first day of the Convention? It has happened exactly the same for most of my lifetime.
—
Doug Wead is a presidential historian who served as senior advisor to the Ron Paul presidential campaign in 2012, and was special assistant to President George H.W. Bush.
This is an opinion piece. The views expressed in this article are those of just the author.