The Blame Game: Jovan Belcher, The Kate Middleton Nurse Suicide And Personal Responsibility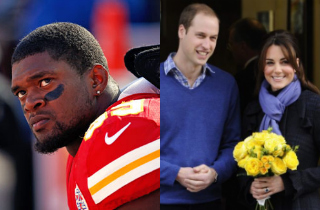 The news came while listening to Geraldo Rivera's radio show during a rainy Friday drive:
[Paraphrasing] "Shocking news to report, Geraldo," said Rivera's news reader (as Jason Mraz's cheery 'I'm Yours' awkwardly played in the background in the bump out of commercial), "The receptionist who put through the prank phone call from those Australian DJs to Kate Middleton's nurse…has been found dead in an apparent suicide."
Geraldo, taken by surprise, expressed sorrow, but quickly pivoted to the blame game: "I wonder if the DJs who pranked that woman now feel sorry for what they did."
In fairness to Geraldo, he was only asking the question most people already have: Who forced this woman, Jacintha Saldanha, to take her own life? She was just someone doing her job and made an error many of us could have made under those conditions.
Put it this way: My wife is an ER doctor, and from what she tells me about her job on a daily basis, it's never a slow day at the office…all workers are susceptible to such a ruse.
As a result, here are some of the topics likely to be discussed on cable news for the next several days:
Should the Aussie "shock jocks" be suspended or fired for prompting Saldanha into committing suicide?
Should all radio stations be banned from doing prank calls to any business or hospital?
Did Howard Stern somehow inspire this prank? (Mentioning Howard is always good for ratings)
Should the Royal Family help pay for any funeral services? They have the money, right?
Should hospitals suspend or fire any worker who breaks the rule around doctor/patient confidentiality?
And so on…
What will rarely be broached is Saldanha's role in all of this: You know, the actual suicide. People have made mistakes far worse in hospitals…mistakes that have cost lives. And from what we know, Saldanha wasn't fired for making what relatively was an innocuous lapse in judgment.
Was she reprimanded? Likely…although Britain's Daily Mail reports (for what it's worth) that Saldanha wasn't disciplined in any capacity.
Still, was she embarrassed by the national press calling you an airhead for two days?
Absolutely.
But being a married mother of two, Saldanha should have sought professional help before making such a selfish decision. The family she left behind, particularly the children, may never recover for such a traumatic event.
Earlier in the week, the blame game also played out to the delight of cable news producers in the form of the Javon Belcher murder/suicide, a story made even bigger by the backlash around the Jason Whitlock (FOXSports.com)-inspired anti-gun halftime speech by Bob Costas on Sunday Night Football. Finger-pointing included the following targets:
1) The NRA, which has since been morphed into the KKK by Whitlock (the writer declares "the NRA is now the KKK" because it "helps arm black youths"). Yup…even when an African-American man murders an African-American woman (Kasandra Perkins) and subsequently takes his own life, it's the white man's fault.
2) Republicans for supporting the NRA (even though President Obama supports many of the same gun rights)…
3) The NFL: For "forcing" Belcher to play a violent sport that leads to head injuries, which (it is now assumed by some) could turn anyone who suffers a concussion into a violent killer.
4) Roger Goodell: For not respecting Belcher's life (even though he didn't respect his own) and allowing the Chiefs to play the Panthers the day after the event.
5) Numerous Kansas City Chiefs players: For having the audacity to still advocate gun rights after the shooting.
You get the idea…
The only one rarely blamed in the media was the guy who purchased the gun and pulled the trigger 10 times.
A freak hurricane hits the Northeast, global warming is automatically blamed.
The Today Show falls to second place after being in on top for 852 consecutive weeks, Matt Lauer held solely responsible.
The Jets become New York's third-best football team (behind the Giants and Syracuse) and Tim Tebow's mere presence is the culprit.
In today's polarized media, there always needs to be a good guy and a bad guy. A guilty party and a victim. Hastily-assembled debate trumps fact-finding and investigation.
It's all about infotainment.
So the next time a high-profile murder and/or suicide occurs, instead of focusing on the peripheral players when placing blame, let's try something else:
Like holding the person actually responsible, responsible…
— —
>> Follow Joe Concha (@ConchSports) on Twitter
Have a tip we should know? tips@mediaite.com