The Co-Chair of 'Veterans for Trump' Got Nabbed by the FBI Over Armed Standoff With the Bundys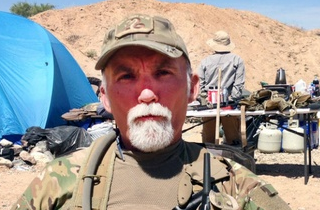 Jerry DeLemus is a guy from New Hampshire who is known for a few different things. He called for a "Draw Mohammad" contest in the state following the Charlie Hebdo shootings. He stood with the outspoken Cliven Bundy when he had an armed "resistance" at his ranch in 2014.
Now, he has been arrested by the FBI, which is a bummer, since he is also the co-chair of Veterans for Trump and they will have to continue in his absence.
According to The Union Leader, he's up against nine federal charges based on an indictment brought from the resistance in 2014. As you may know, the Bundy family moved from armed resistance to armed takeover when they played a prominent part in the taking of a wildlife refuge in Oregon earlier this year. Cliven was arrested on his way to join his family at that standoff, also on charges relating to the 2014 incident.
The indictment of DeLemus is 64 pages. The Union Leader put it like this:
Court papers describe DeLemus as a "mid-level leader and organizer of the conspiracy," who recruited, organized, trained and gave logistical support to gunmen and followers. He is alleged to have been a leader and organizer of armed patrols and security checkpoints on the Nevada ranch.
Like the Bundy family themselves, DeLemus had a lot of friends willing to stand up for him. A local Tea Party leader named Jack Kimball posted the following frantic message to Facebook today after hearing from State Representative Susan DeLemus:
He characterized the actions of DeLemus as "standing up for liberty and freedom," but The Union Leader described the events in Nevada as, "the massive armed assault against federal law enforcement officers in and around Bunkerville, Nev., on April 12, 2014, which court records refer to as a conspiracy to thwart the seizure and removal of Cliven Bundy's cattle from federal public lands." Bundy had first been notified that he had to remove the cattle in 1998.
[image via screengrab]
For more from Lindsey, follow her on Twitter.
Have a tip we should know? tips@mediaite.com