The Daily Caller: Democratic Senator 'Involved In Simulated Sheep Rape Rituals' In College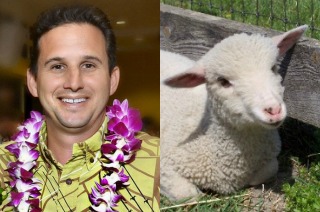 According to a report in The Daily Caller, Sen. Brian Schatz (D-HI) engaged in the ritualistic molestation of sheep as part of a college fraternity hazing activity. While studying at the California-based Pamona College, Schatz led a fraternity that was alleged by animal rights groups to have been involved in "threatening to sodomize a sheep." The threats were part of a game in which fraternity pledges were encouraged to violate the sheep but were stopped short of actually performing the act.

"The Phi Delta fraternity has been charged with engaging in cruelty to animals by the Pomona Valley Humane Society after a Campus Security officer found a sheep locked in a social room closet being used by the fraternity," read an article on the incident in the Pamona University school paper, The Student Life, in 1994.
"After a student in Clark V [dorm hall] reported hearing the bleating of a sheep in the basement of the dormitory, Campus Security arrived to cut the lock and free the animal, which was confined to small room [sic] also housing eight empty beer kegs," the report continued. "The Humane Society is currently examining the sheep to see if it has been sexually molested."
One former classmate told The Daily Caller that one sheep was used in fraternity "initiation rites." He added, though, that the pledges were never allowed to go forward with any molestation of the animal. Pledges had to be willing to violate the sheep as a demonstration of their loyalty to the fraternity before they were allowed to join as members.
Read the full article via The Daily Caller
> >Follow Noah Rothman (@NoahCRothman) on Twitter
Have a tip we should know? [email protected]