Harvard Professor Chinese Takeout Story Just Turned into Journalistic Hot Mess
The story of Ben Edelman, the Harvard Business School professor whose tantrum over $4 at a Chinese restaurant went viral, has now turned into a weird quagmire of journalism ethics: first, a retracted story over a possibly-faked email; then, a very bad instance when the reporter became the story, via an ironic hipster t-shirt.
Part one: yesterday, Boston.com published emails from the owner of Sichuan Garden, in which Edelman used a racial slur to refer to the owner: "You may have won the battle, Duan, but at least we can agree your menu is a little less slanty-eyed," it said. The site was forced to retract the article after readers pointed out that the email could have been faked — the message was sent through Sichuan Garden's website, which allows anyone to enter Edelman's email address if they chose to do so — and subsequently deleted the entire thing. BostInno has a copy of the old article up here, and a plea to the journalism gods: "Fingers crossed, this is the last time we'll have to discuss any new information in the HBS Prof-Chinese Restaurant saga of 2014."
Hahahahahaha nope here's Part Two.
The very next day, the reporter assigned to the Edelman story, Hilary Sargent, got in trouble with her bosses after they discovered that she'd created a t-shirt about the Edelman incident and was selling it online (screenshot via BostInno):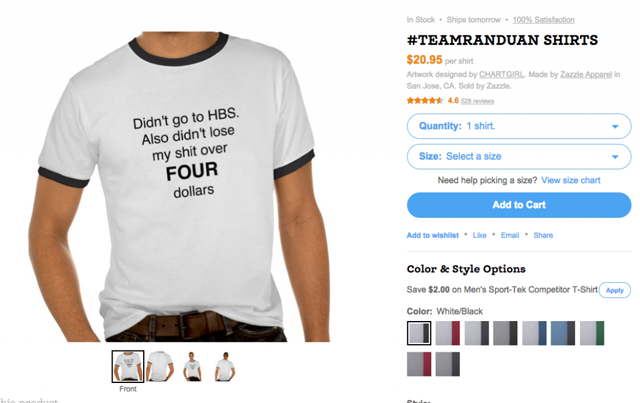 "We certainly don't condone this type of action and we are dealing with it internally," Corey Gottlieb, executive director for digital strategy and operations at Boston.com, told BostInno.
As of now, the t-shirt design has been removed from Zazzle, but not before it got 526 reviews.
Will this be the actual, for real last time we'll discuss any new information in the "HBS Prof-Chinese restaurant saga of 2014"? Sadly, probably not.
[Bostinno.com]
[Image via screenshot/Zazzle.com]
—
>> Follow Tina Nguyen (@Tina_Nguyen) on Twitter
Have a tip we should know? tips@mediaite.com