The Hill Reports Lion Killer Donated to Romney; Twitter Asks Why That's Relevant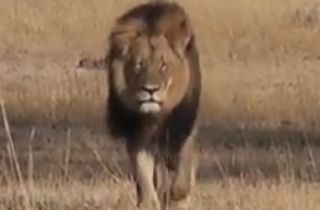 Ever since Walter James Palmer was identified as the killer of famed Zimbabwe lion, Cecil, the Internet has let him have it. The Minnesota-based dentist claimed that he didn't know he beheaded and skinned a famous animal, but that didn't stop the online outrage, the condemnation from PETA, or the Yelp users who trashed his practice.
On Wednesday, The Hill published a blog about how Palmer is such an atrocious monster, that he once donated to the GOP.
The article reported that Federal Elections Commission forms show that Palmer donated $5,000 to Mitt Romney's 2012 campaign, and made two previous donations to former representative Jim Ramstad.
While this angle has largely gone unreported across the media, The Hill's Twitter profile received numerous questions regarding what Palmer's donations have to do with Cecil's death:
@thehill and this is newsworthy how?

— Pterseus_ (@Pterseus_) July 29, 2015
@thehill Attacking Romney when he's not even running? Must want to attack him for being right on every single thing in the debates.

— Brian Cronauer (@PSUBoomboxGuy) July 29, 2015
JUST IN: Donating money to Romney causes people to do bad things. via @thehill https://t.co/j6hjlbYuOJ

— J.R. Winger (@justice2just) July 29, 2015
@thehill Wow, you mean hunters vote Republican? Good journalism guys. #derp. Who do the baby killers donate to?

— Creamy Giblets (@CreamyGiblets) July 29, 2015
@KXstich @thehill @VolcanoGirl75 Well, there goes HIS third term.

— Sean McCabe (@darthstar99) July 29, 2015
@thehill And so what? Hillary won't even tell us who donated to the Clinton Foundation.

— Ron Jonnie (@RonJonnie5) July 29, 2015
@thehill I look forward to the blistering expose on how the Chattanooga shooter donated to Planed Parenthood. #Nonsense #LiberalBias

— Stephen K. Armstrong (@Stephen6907) July 29, 2015
[image via screengrab]
— —
Have a tip we should know? tips@mediaite.com