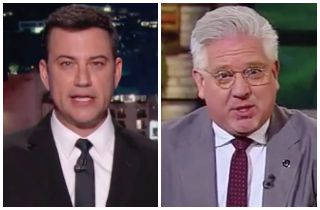 Glenn Beck is sickened by the death of Cecil the Lion, but he's also sickened by Jimmy Kimmel choking up about the animal's death.
Last night, Kimmel got a little emotional as he talked about the Minnesota dentist who shot and killed a beloved lion who resided in a Zimbabwe park. Kimmel cautioned against a "witch hunt" and instead encouraged everyone to donate money to Oxford University's Wildlife Conservation Research Unit, to "show the world that not all Americans are like this jackhole here."
Beck posted on Facebook today how disturbed he is by that reaction, saying, "Jimmy Kimmel cries over the story?!? This is what he connects with? This is what the West finds important?"
He invoked the Planned Parenthood story and the harvesting of fetal tissue and asked if Kimmel would cry about that.
Beck didn't necessarily defend the hunter –– he bemoaned how a man who "mistakenly killed ONE lion" is having his life ruined –– but he was pretty steamed about what Kimmel's commentary says about America:
Who the hell are we? You will not like it, but I will tell you.

A people that are on the wrong side of history. A people who apparently are hell bent on their own destruction. A society, that refuses to learn from the darkest moments of history and so will repeat them.

We do not survive when we care more about one animal than millions of humans.
In a subsequent post, Beck made a similar observation:
Here's what social media is teaching you today:

If you kill babies and sell their body parts it is okay.

But if you kill a lion make sure it doesn't have a name.
You can watch Kimmel's commentary below, via ABC:
[image via screengrab]
— —
Follow Josh Feldman on Twitter: @feldmaniac
Have a tip we should know? tips@mediaite.com
Josh Feldman - Senior Editor