'I Don't Strive to Be Offensive': Trevor Noah Talks New Daily Show, Twitter, and Fox News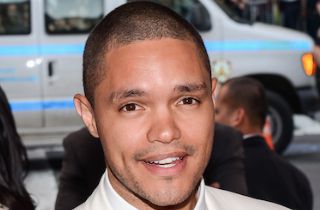 Trevor Noah has some pretty massive shoes to fill on The Daily Show, and today he spoke at the Television Critics Association today about how his Daily Show will be somewhat different than Jon Stewart's.
Multiple reports from the TCA event reveal that they're "changing the sets a tiny bit" and Noah will look at the same stories Stewart currently does, only with a more global perspective.
Such an outlook happens to include a good understanding of new media for, as Noah said, "The Daily Show was based on an emerging 24 hour news cycle, that's everything it was… Now you look at news and it's changed. It's no longer predicated around 24 hour news… The biggest challenge is going to be an exciting one I'm sure is how are we going to bring all of that together looking at it from a bigger lens as opposed to just going after one source—which was historically Fox News."
And Noah wants to make it clear that he doesn't want to be "the next Jon Stewart" because "that would be a disservice to him."
The young comedian also addressed the controversial Twitter jokes that dominated the coverage of his announcement as Stewart's successor, saying "I don't strive to be offensive":
"Thankfully, Comedy Central hasn't limited me to 140 characters, so I should be able to say things in a better, well-formed way."

"Let me put it this way," Noah said. "If a person has 9,000 tweets and five of them are not to your taste. What I heard is 'This person has 8,995 tweets that weren't offensive."
The Daily Show with Trevor Noah will hold onto Stewart's five executive producers, and will debut September 28.
[image via Electrolysis/Shutterstock]
— —
Follow Josh Feldman on Twitter: @feldmaniac
Have a tip we should know? [email protected]
Josh Feldman - Senior Editor