The Internet's Dumbest Rumor, About Marco Rubio's Sexuality, Continues to Swell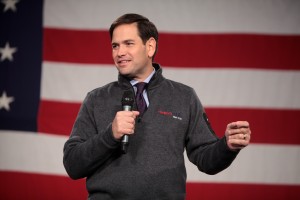 Last week, the campaign caricatures Lynette "Diamond" Hardaway and Rochelle "Silk" Richardson — known affectionately by their moniker the "Stump for Trump" Girls — very casually told CNN's Carol Costello that Florida Senator Marco Rubio "may have had a gay lifestyle in his past." Costello looked horrified at the on-air quasi-accusation, seemingly based on absolutely nothing of substance. They even recommended that she just "Google it."
It's the sort of wild statement that you would expect from a duo of unhinged YouTubers that Donald Trump openly allows to speak at his rallies. Rubio, after all, has become the newest perceived threat to Trump's campaign, and finds himself in the middle of petulant Trumpian taunts; despite a weak Super Tuesday performance, Rubio is still considered the establishment darling most likely (they hope) to dethrone Trump, so by Trump Political Theory 101, blindly dropping "gay lifestyle" references on cable news would seem fair game.
But where does the genesis of this notion come from? So we well, Googled it, among other things. Rubio is, after all, a father of four, the husband of a former Miami Dolphins cheerleader, a devout Roman Catholic, not to mention a member of the party most aligned with traditional views of marriage.
It would seem, in fact, that the Rubio-homosexual inklings are the stuff of conspiracy theorists' lore, sandwiched right up there with Umbrella Man and Sandy Hook was fake type lines of thought. Why look any further than Alex Jones' InfoWars to deliver the hard-hitting, uh, let's call them "facts".
Yesterday's headline on the site blared: REPORT: RUBIO "VERY EXTROVERTED HOMOSEXUAL" DURING COLLEGE YEARS. InfoWars correspondent Wayne Madsen asserts, "There is a low-level murmur in the media about Rubio's rather 'gayish' past." Well if it involves a "murmur" and something-"ish" it must be true. Madsen continued:
"Special interest surrounds Rubio's performance as a Chippendale/Village People-like dancer, his association with a high school and college friend in Miami who later rented property to an on-line porn operator specializing in Latino and black gay sex ('CocoDorm'), the South Beach foam parties, the financial backing by Paul Singer, the vulture hedge fund tycoon who champions gay rights and endorsements by key members of the gay Log Cabin Republicans."
Right, well there you have it. Conspiracy theorists point to a 1990 arrest of the then-high school student Rubio in Alice Wainwright Park in Miami as evidence of his so-called "gay lifestyle". The Washington Post has written about the incident — sans homosexuality undertones — as such:
"[Rubio] was arrested one night in May 1990 for being in a crime-plagued public park after closing time, according to police records and an interview with a friend who was cited with Rubio that night."
The man Rubio was arrested alongside that night — Angel Barrios — later was found to be the landlord of an apartment that the gay porn website Cocodorm.com would use for production, though the site's owner later confirmed that Barrios "had no involvement" with the site.
Rubio's presidential campaign strategist Todd Harris later clarified briefly, "When he was 18 years old, he violated a municipal code for drinking beer in a park after hours… Why The Washington Post thinks that is a story is beyond me."
"Despite the high-priced real estate nearby, the park had become a notorious locale in the late 1980s and early '90s, a haven for drug dealers, prostitutes and gang members," the WaPo report noted.
The next bit of "evidence", is almost hilarious in its absurdity. It comes from a photo that emerged from South Miami High School's annual "King Cobra" competition, where Rubio and his football teammates danced a comedic Chippendales-style routine for the crowd (Rubio is the short one, of course):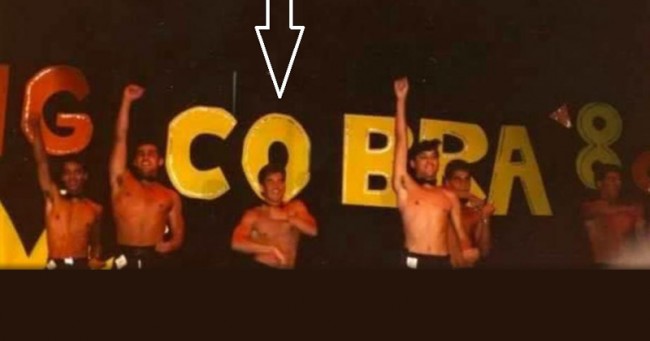 Although the annual King Cobra festivities earned a mention in Rubio's 2012 memoir American Son, any references to this shirtless dancing were left out.
The same fringe conspiracy gay truthers now feel strengthened in their quest by pointing to a reference on last month's Tonight Show, where Rubio briefly mentions his college "foam parties" to host Jimmy Fallon. Foam parties? Well come on, that clearly spells G-A-Y. Right?
Some will rightly ask who really cares while others will argue that by answering the question at all we are giving this completely baseless allegation more publicity. Maybe so, but this is intended as a political smear (whether it should be or not) and the allegation even surfaced on CNN. Consequently, picking apart the non-evidence on the internet where this nonsense is living and growing becomes more sensible.
Ultimately, of course, it's the sort of stuff that furthers the political silly season, meant to detract from the not-so-sexy conversations about policy proposals, Senatorial votes, delegate counts, and legislation. The same people interested in this are likely the ones overly obsessed with the size of Donald Trump's vulgarian fingers or who are still convinced that President Obama is the guy in the Whoomp There It Is music video (or who claim the President is gay, but that's another column). But at a time when the very integrity of the Republican party is clearly being jeopardized and hijacked, the gossip mill of the spiraling internet continues to ask questions only suitable for the Stump for Trump girls and their most berserk accusations.
[image via Flickr]
Have a tip we should know? tips@mediaite.com