'The Most Insulting Thing!': Media and Race on the Table As CNN Panel Argues Trump's Big Win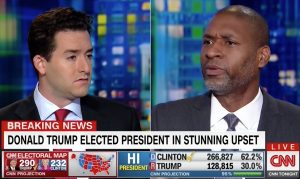 With the wounds still undoubtedly fresh for many people in this country regarding the shocking upset victory by President-elect Donald Trump, the cable news debates have stayed heated. Last night on CNN, Don Lemon moderated a bi-partisan panel that featured liberal New York Times columnist Charles Blow and Andy Dean, a supporter of the soon-to-be-Commander in Chief.
Lemon intro'd the quickly-viral clip that emerged out of CNN on Election night featuring Van Jones identifying the results of the race as "white-lash," a take that Dean denied.
"The American people were looking for jobs last night, so they picked an outsider," said Dean on Wednesday night. "This obsession with race, I get it, it's a media thing," he continued.
But Charles Blow, who was one of the voices on the program to express both his disbelief as well as his concern over a Trump presidency, shot back, "I don't know what walk of life you have to be in to think race is a media fascination."
"I happen to live in this skin and have been doing that for 46 years," Blow continued. "And let me tell you something — this has nothing to do with media… this concept that we are creating or somehow luxuriating in a race obsession that is great for us because we feel good about it is the most insulting thing that I could ever hear!"
Andy Dean only managed in response, "That was a stretch."
Watch above via CNN.
—
[image via screengrab]
Have a tip we should know? tips@mediaite.com