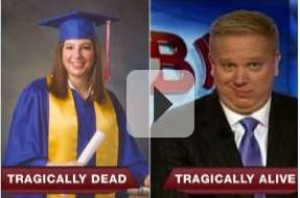 The saying goes "Dying is easy, comedy is hard," but what about combining the two activities? A new video from the Onion News Network features the kind of dark, irreverent humor and high production values that have become their stock-in-trade, but with an added twist: a quasi-death wish for Glenn Beck. The clip is called "Victim In Fatal Car Accident Tragically Not Glenn Beck," and it has some people (including our own Rachel Sklar) wondering if The Onion has crossed even its own far-flung line.


Here's the video in question:
While The Onion is known for this kind of humor, the video does have a creepy vibe to it. In the past, they have found humor in such questionable subjects as 9/11, pedophilia, baby-shaking, and cancer. One video features Olympic gymnast Shawn Johnson being put to sleep after breaking her leg, but the real point of that video was to lampoon the piety surrounding animal euthanasia, and the gymnast took it with good humor.
The Beck video takes aim at local news tragedy cliches, like when the victim's mother says that it's a terrible think to have your child outlived by Glenn Beck, but the main theme of the clip is that people hate Glenn Beck, and wish he would die. Hot Air's Allahpundit fails to see the humor:
If you're going to wish death on someone, own it. It's like hitting a guy with a crowbar but wearing a funny hat while doing it to "lighten the mood" or whatever.
On the other hand, The Onion's news videos are marked by absurdism, which could indicate that this video is mocking the absurd level of hatred directed at Beck, and by him.
One thing is for sure: the video has inspired real-life copycats, as news agencies are continually reporting the deaths of people other than Glenn Beck.
We contacted The Onion and Fox News, and they each declined to comment for this article.
Tell us what you think. Did The Onion's video go too far?
Have a tip we should know? tips@mediaite.com