'The Spine of a Worm, The Ethics of Whores': Glenn Beck Unloads on Karl Rove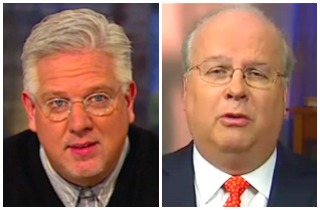 Last night, we reported Karl Rove's comments dismissing Glenn Beck's departure from the GOP, calling it "old news." Well, Beck picked up on it and went on quite a lengthy Facebook tirade hours after Rove made those remarks.
And by the looks of it, Rove's comments only confirmed for Beck every single problem he has with the Republican Party. Beck started out by saying, "You want to rumble Rove? Come on to my show and let's have it out. Bring it on."
RELATED: Glenn Beck Rips 'Establishment GOP Hacks': Tea Party a 'Threat to Their Power and Existence'
From there, Beck proceeded to explain to Rove how "progressive light" the GOP has become, ripping into him and the rest of the establishment Republicans for accomplishing practically none of the campaign promises many candidates ran on.
Beck mocked Rove for putting "strategy" ahead of principle and for wasting opportunities to implement true conservative policies under George W. Bush. Then he went for the jugular:
You guys have the spine of a worm, the ethics of whores, and the integrity of pirates. (My apologies to worms, whores and pirates)
And Beck kept going, calling Rove and his ilk everything but washed-up:
It is sad that you can no longer hear the American People because they could save you. Instead you listen to your political consultants and the amazing thing is you still believe all of it.

Can you not smell what you are shoveling anymore?

The world has changed. The whole world is being redesigned. Not by government but by dreamers and doers…

You just continue to shine up the progressive agenda of people like Jeb, pressure, corrupt or threaten freshmen and smear the good people of this country who believe in the actual principles enshrined in the constitution.
You can read Beck's full Facebook post here:
And you can watch Rove's comments here, via Fox News:
[h/t The Blaze]
[image via screengrab]
— —
Follow Josh Feldman on Twitter: @feldmaniac
Have a tip we should know? tips@mediaite.com
Josh Feldman - Senior Editor