The Tigers Come At Night! How Susan Boyle Created Piers Morgan, CNN Celebrity Interviewer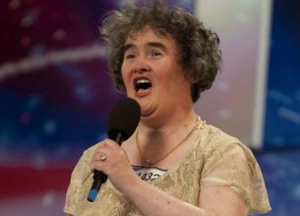 Congratulations, Piers Morgan! You're the new host of Larry King Live, or whatever the new version will be after you step in for The King in the sweet spot of CNN's prime time schedule, the 9pm hour.
Morgan called it "the greatest interview job in the world." The NYT's Brian Stelter called it "an extraordinary coup for Mr. Morgan, who most American viewers know only as a judge on NBC's 'America's Got Talent.'" I call it, buddy, you better have a big batch of flowers heading in Susan Boyle's direction, because you owe it all to her.
Remember Susan Boyle? Of course you do. Last April she burst into our hearts — and across our computer and then TV screens — owing to her amazing performance on "Britain's Got Talent," singing "I Dreamed A Dream" from Les Miserables. The juxtaposition of the cheery but spinsterly Boyle letting loose this goldmine of a voice in a televised national debut — that floored even notable curmudgeon Simon Cowell — burned up the Internet as not only a jaw-dropping performance (and proof that musical theater is transcendent and awesome) but also a captivating human interest story of dreams being possible to anyone, anywhere, at any time. This YouTube clip of the performance has over 48 million views; there are certainly plenty of others online — not to mention the many, many replays we got of that clip following Boyle's breakout moment.
Boyle's breakout moment was also Morgan's – 48 million people saw him, too, and suddenly he was known and seen in a way in which he had not previously been. He started to do talk shows about it himself — I can remember seeing him on Larry King of all places, noticing him for the first time. It was Morgan who spoke authoritatively about Boyle's potential on the show and for an upcoming career, Morgan who wrote about the moment glowingly for the Daily Beast — and even Morgan who spoke flirtatiously about taking Susan, our favorite never-been-kissed ingenue, out on a date. Before Boyle, most of us would have considered David Hasselhoff or Sharon Osborne as the first examples of famous reality TV-show judges to come to mind; after Boyle, Morgan joined that pantheon (or "pantheon" as the case may be).
Yes, Morgan had a career as an interviewer and editor in Britain — CNN touts him as "global media personality and veteran newspaper editor Piers Morgan" — but we only need to look at someone like, say, Robbie Williams to know that success across the pond does not an American superstar make. Even David Frost only really penetrated the American consciousness when he became immortalized with Nixon and a backslash in an Oscar-nominated flick. No disrespect to Morgan, who has not only had an illustrious and multi-faceted career in Britain and America but also managed to negotiate himself a sweet deal that lets him keep his NBC reality TV judging gig and his ITV gig as well, which, as my colleague Steve Krakauer notes, will stretch Morgan all over the place from the top — but also allowed him to get one of the plum spots in television without seeming to give anything up. That's some pretty decent clout. No doubt his interviews with people like Gordon Brown didn't hurt, but let's face it — it was only when Susan Boyle opened her mouth, and gave Morgan the kind of platform that he'd never before had as an editor, columnist, presenter, documentarian, and person who got to decide who had talent, that we all started paying attention. And that includes CNN.
So, Mr. Morgan, wherever you are and however that date went — I hope you have something really special for Susan Boyle by way of a thank you. Because thanks to her big moment, you're now getting yours.
Related:
How Susan Boyle Won My Heart, By Piers Morgan [Daily Beast]
p.s. For the Philistines in the crowd, the title is a reference to Boyle's famous audition song, "I Dreamed A Dream," recently co-opted by Glee. The line is, "But the tigers come at night, with their voices soft as thunder/Ad they tear your hope apart/As they turn your dreams to shaaa-aaa-aaa-aaa-aaame!" In this scenario, Susan Boyle is the stealth tiger and the dreams are actually turned into a primo cable news hosting gig. But that doesn't rhyme as well.
Have a tip we should know? tips@mediaite.com