Concha: 'They Deserved It': The Repulsive Reaction to Brooklyn Police Executions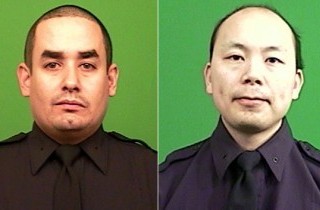 It's a dark time in America — a time when two uniformed officers who had absolutely nothing to do with what happened to Michael Brown in Ferguson, Mo., or to Eric Garner on Staten Island, are executed without warning, and some witnesses actually say "They deserved it."
Again: "They deserved it." They being two men marked for death because they wore a New York Police Department uniform. One of those men was the recently-married Officer Wenjian Liu; the other, Officer Rafael Ramos, who leaves behind a wife and 13-year-old son. In a related story, both were reassigned from an anti-terror beat to enhancing security at a public housing development in Brooklyn's Bed-Stuy neighborhood — the exact population the NYPD is accused of victimizing.
Part of this account comes from Daily Beast columnist M.L. Nestel, who reported from the scene of the officers' killings:
Throughout New York, the execution-style killing of these officers in the Bedford-Stuyvesant neighborhood of Brooklyn has generated a near-universal sense of horror at the crime — and sympathy for the victims.

But the scene outside Woodhull Hospital wasn't entirely supportive. "You're a bunch of killers," a passerby told cops standing sentry there, according to one police source. And short distance from the crime scene — where a crowd was backed up by the police tape — a few members of the crowd repeated "fuck the cops" within earshot of a Daily Beast reporter.
Nestel continues…
One 30-year-old local who gave his first name only as Carlos, didn't hear the gunfire but saw the hysteria and walked to the police tape.

And he couldn't believe his eyes or ears. He didn't see shock or sorrow but glee and jubilation.

"A lot of people were clapping and laughing," he said.

Carlos said fired-up locals were staring at two cops killed in cold blood and saying they got what they deserved.

"Some were saying, 'They deserved it,' and another was shouting at the cops, 'Serves them right because you mistreat people!'" he said.
Re-read those accounts again just to let it sink in. This is nearly the year 2015 in the largest city in the country, and there are some living in it who cheer the slaying of two police officers in an ambush that happened in a marked car there to protect them.
The individual behind the shooting was a 28-year-old Baltimore man with an arrest record a country mile long — 31 arrests and counting, apparently. After a brief chase, the alleged shooter took his own life as police reportedly chased him down to a subway platform. From there, it didn't take long for investigators to find the suspected shooter's Instagram account, which posted the following:
I'm Putting Wings on Pigs Today. They take 1 of Ours…Let's Take 2 of Theirs #ShootThe Police #RIPErivGardner (sic) #RIPMikeBrown This May Be My Final Post…I'm Putting Pigs In A Blanket.
So what exactly happens from here?
Will we see the same protests that occurred after the Michael Brown and Eric Garner grand jury decisions? Yes, the suspect is already dead, but symbolic unity that ALL lives matter…including blue lives (police) shown on the streets of America wouldn't be a bad thing, now would it? So will we see Al Sharpton–who apparently helps govern now via his unofficial offices from 1600 Pennsylvania Ave. to 30 Rock to Sony Pictures — do more than just issue a public statement, and actually lead rallies around the deaths of Officer Liu and Officer Ramos (both of whom were minorities), the kind he's so accomplished at assembling?
Of course he won't.
Will the New York Jets exit the tunnel on Sunday before their home game with the Patriots while striking a "Hands down, don't execute" pose in support of the NYPD? Will the St. Louis Rams — who host the Giants on Sunday — provide a repeat performance of their "Hands up, don't shoot" protest from two weeks ago? Will that group of protesters in Manhattan a few weeks ago — who reportedly chanted (and you can watch and listen for yourself here) "What do we want? Dead Cops! When do we want it? Now!" — feel any remorse whatsoever for their rhetoric? Even if you dismiss the Daily Beast accounts above since there is no tape, how can anyone defend what is clearly heard and repeated on that video about dead cops?
In short, will we see the same outrage and mass protests for these two executed cops that we saw for Brown and Garner?
Either way, it now all comes down to this in America in late 2014: An eye for an eye. Vigilante justice. Crowds cheering the death of those serving to protect them.
A deeply divided America has seen its dark times. Chalk up the past month — from Ferguson to Staten Island to Brooklyn this weekend — as easily its darkest in a while.
— —
>> Follow Joe Concha on Twitter @JoeConchaTV
Have a tip we should know? tips@mediaite.com