This Week in Trump Administration Lies: From Sunday Shows to Thursday Press Briefings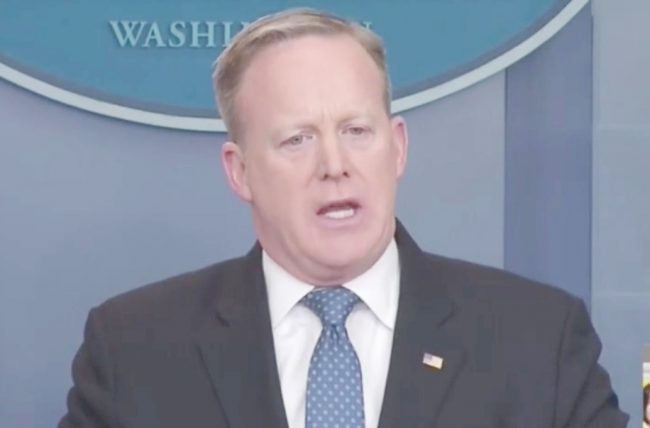 We are back at it for the third installment of This Week in Trump Administration Lies, and while we don't have anything as hashtaggable as the Bowling Green Massacre or "Alternative Facts," we do have a few humble offerings.
We left off at February 2, so let's head now to the 6th. There were no major lies from Donald Trump over the weekend, but Kellyanne Conway got caught in a lie right away on Monday morning. 
Here's how it went down: Conway was offered as a guest to CNN for a Sunday show, which took place on the 5th, though Mike Pence was offered to the other networks. People took notice of that as early as the 3rd, but Conway was not featured on CNN when Sunday rolled around. On Monday, reports indicated that CNN refused to have her on because she has "credibility" problems. To dispute that, she tweeted  link to the Mediaite article summarizing that report. She captioned it with a lie: "False. I could do no live Sunday shows this week BC of family."
CNN's public relations department immediately called her out on the lie, saying that the White House did absolutely offer her as a guest for Jake Tapper's State of the Union, but the network "passed."
Also on the 6th, Trump himself told a lie when he indicated that major news networks deliberately avoid reporting on terrorism. When asked to provide a few examples, the White House gave a list of attacks. Reporters from Fox News, CNN, CBS News, and more immediately fired back to defend themselves and their competitors, giving examples of attack coverage. Shep Smith enthused that the claim was "not true." Norah O'Donnell clarified that "facts matter." In fact, the Los Angeles Times won a Pulitzer for its in-depth reporting on one of the attacks from the list.
On the 7th, Trump made the bold claim that the murder rate in America is the highest it has been in 47 years. Again, that is not true. Large cities are experiencing the biggest annual increase in the murder rate in 45 years, but that means something very different than, "The murder rate in our country is the highest it's been in 47 years."
Tapper asked Conway about that quote when he interviewed her on the 7th. He, too, stated that the statistic as Trump says it is false.
Yesterday, the 9th, Sean Spicer and Trump were caught in the same lie when Spicer said and Trump tweeted that Trump's Supreme Court pick, Neil Gorsuch, was not talking about the President when he said that he was "disheartened" by certain attitudes toward the judiciary. Democratic senator Richard Blumenthal stated that Gorsuch had expressed his displeasure with Trump's tweets about Judge James Robart, as did Republican Ben Sasse. On top of all of that, Gorsuch's own spokespeople stated that he had been referring to Trump's tweets. To really hit home the point that Spicer and Trump were lying and that yes, Gorsuch was referring to Trump's tweets when he said he was "disheartened," CNN used a double-layered fact-checking chyron yesterday.
Speaking of Blumenthal, Trump erroneously accused Chris Cuomo of not asking Blumenthal about his own past lies while interviewing on CNN yesterday, which was, again, the 9th. In fact, Cuomo had asked Blumenthal, "What is your response to the president of the United States, who says you should not be believed because you misrepresented your military record in the past?"
After Trump tweeted the accusation, two things happened. Cuomo himself called Trump out on-air and pointed out that he had asked Blumenthal the very thing Trump said he had not and CNN's PR department once again jumped in to correct the record with a video.
That's it for now. Check this space again in a week to catch up once more.
[image: screengrab]
Have a tip we should know? tips@mediaite.com