Tim Kaine: Michael Flynn's Either 'Highly Gullible' or Has Lost Ability to Judge What's Fact or Fiction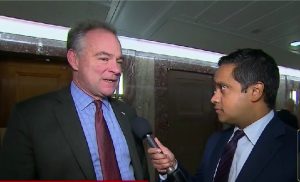 CNN senior political reporter Manu Raju ran into Sen. Tim Kaine (D-VA) today in Washington and got his opinion on some of President-elect Donald Trump's recent Cabinet picks.
The former Vice-Presidential nominee first weighed in the recent announcement by the Trump team that Oklahoma Attorney General Scott Pruitt is their choice to lead the Environmental Protection Agency. Pruitt, a climate change denialist, has been a vocal critic of the EPA over the years and has actually sued the agency a number of times.
"I don't mind having an EPA critic," Kaine noted. "That is not my concern. He's a climate science denier. And that causes me great concern because if there's any agency of the federal government that virtually every decision they make is a decision that's based on science."
The conversation then turned to Gen. Michael Flynn, Trump's pick as National Security Adviser (a position that doesn't need Senate confirmation). Regarding controversy over both Flynn and his son pushing conspiracy theories and fake news stories on their social media accounts, Kaine expressed some major concerns.
"General Flynn's trafficking in conspiracy stories that a fourth grader would find incredible," Kaine noted. Suggests either that he's highly gullible or that he's so consumed with malice that he loses his ability to judge what is fact and what is fiction."
Raju reported that Kaine would like for Flynn to step aside from the position due to questions about his judgement. The reporter also pointed out that Kaine told him that he wouldn't be running for the White House in 2020.
Watch the clip above, via CNN.
[image via screengrab]
–
Follow Justin Baragona on Twitter: @justinbaragona
Have a tip we should know? tips@mediaite.com