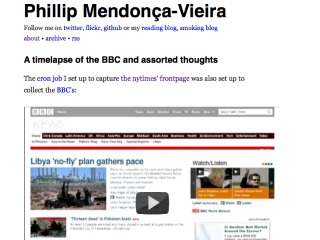 Now here's an interesting experiment: Toronto-based developer and blogger Phillip Mendonça-Vieira was able to record timelapse videos of both the New York Times and the BBC's respective homepages, showing the sites as they updated their content from September 2010 to May 2011.
He then observed the result and recorded what he'd noticed:
The thing that stands out the most in comparison to the nytimes is how the BBC's editors behave more placidly in their content curation. Where the nytimes crams its homepage with as much information as possible, the BBC picks the most important story of the day and runs with it.

I suspect this difference comes down to a dramatic divergence in the sheer volume of content both organizations feel the need to showcase. Where the BBC is happy to file short, factual pieces, the nytimes house style seems to force them into multi page arrangements. Where the nytimes quantifies the BBC strives for brevity.
Another difference? The NYT's main page, Mendonça-Vieira noticed, features a lot more US-centric news than the BBC does UK-centric. He is careful to note, however, that the Times does feature a global section not recorded in the video, and that the televised, UK version of the BBC tends to feature stories that are quite literally closer to home.
Take a look at the videos for yourselves! Here is the BBC version:
And, below, the NYT:
For more videos (and more on Mendonça-Vieira's thoughts about what the information comparing the two sites means for the online presentation and curation of news in general), be sure to visit his site. And do leave the sound on as you watch — the music adds a nice touch to the experience!
Have a tip we should know? tips@mediaite.com