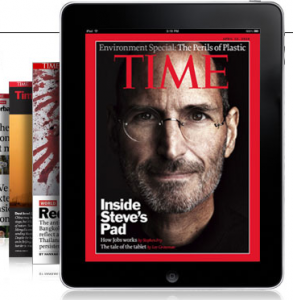 As journalism's existentialist crisis continues, Time magazine has resorted to what many readers dread: an online paywall. Take a look around Time's website and you'll find that print magazine content is no longer freely available. So how can you read it? Buy the print magazine…or the iPad edition.
While paywalls are becoming increasingly common (the New York Times announced paid content beginning next year, and the London Times just launched theirs), Time's strategy is a bit different because it doesn't offer the option to buy access to the content through your web browser:
"To read this article in its entirety, pick up a copy of TIME magazine at your local newsstand or download the TIME iPad app."
So essentially, if you don't want to buy the physical publication and don't have an iPad, you cannot read the entire story. Neiman Journalism Lab's Joshua Benton calls it "a paywall without a door" and questions whether the novel approach will work–or if it's just temporary:
The push is all toward print and the magazine's iPad app. Is that a temporary shortfall, while Time figures out the best way to charge for web access? Or is it a sign publishers are concluding that the web is so problematic a platform for news-as-paid-content that they're better off using it as a simple promotional platform for iPad apps and paper? Or to ask the zen question, is it really a paywall if there's no way to pay?
Newsweek's Mark Coatney says the plan is basically destined to fail:
"[People] will pay for unique content…What they won't pay for is any random story, simply because Time says they should. In any given issue of Time (or Newsweek, for that matter) it's rare that there's any story that a reader can't find somewhere else, for free."
It's obviously too early to say whether this approach works for the publication–but time will tell whether readers feel too limited by the change.
Have a tip we should know? tips@mediaite.com