Today in Stupid: Feminism is Intersectional Enough to Include Convicted Terrorists but Not Zionists?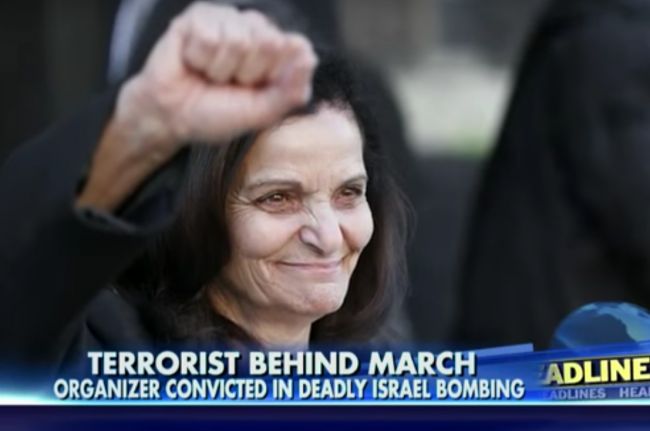 Bustle Politics Editor Emily Shire ignited a firestorm last week after The New York Times published her op-ed, Does Feminism Have Room for Zionists?
The piece was an eloquent exploration of whether the present feminist movement in the United States had a role for Zionists, or those who believe in Israel as a home for the Jewish people. While Jewish and Zionist feminists have long played an integral role in U.S. feminist causes, the rise of intersectionality has created rifts within the current  "vagina hat era" incarnation of the movement.
"We want to dismantle all walls, from prison walls to border walls, from Mexico to Palestine," reads the platform for the recent International Women's Strike.
The practical result of this rift was the heated denunciations Shire has faced from various quarters of the far left. In a recent interview with The Nation, feminist and Palestinian rights activist Linda Sarsour said the answer to Shire's question was no:
I would say that anyone who wants to call themselves an activist cannot be selective. There is no country in this world that is immune to violating human rights. You can't be a feminist in the United States and stand up for the rights of the American woman and then say that you don't want to stand up for the rights of Palestinian women in Palestine. It's all connected.
The focus on women's rights in the Palestinian territories is likely related to the fact that many of the most prominent members of "post-election feminist mobilizations" are Palestinian women. Interviewer Collier Meyerson, cited Sarsour, along with Lamis Deek and Rasmea Odeh as leaders.
Unmentioned during the interview was Odeh's conviction for her role in a 1969 bombing of a Jerusalem supermarket that killed two people, and while Shire suggested that Odeh's conviction was "debated," a Red Cross observer who attended the full six-month trial reportedly pronounced it fair.
(If you're still unconvinced, you can listen to the words of Odeh's co-conspirator Ayesha Odeh [no relation] who fingered Rasmea as a major figure in the attack.)
"Rasmea Odeh was more involved than I was [in the grocery store bombing]," she said to a 2004 interview to a Palestinian filmmaker. "I only got involved during the preparation of explosives." Trial or no trial, Odeh was unquestionably a member of the Popular Front for the Liberation of Palestine, which the U.S. State Department has labeled a terrorist organization.
In an fantastically unintentional argument for President Trump's travel ban, Odeh was also arrested after she emigrated to the United States for lying about her past, as Snopes reported:
When Odeh emigrated to the U.S. in the mid-1990s, she failed to admit she had a criminal record, leading to her indictment and arrest in October 2013. She was tried for providing false information on her immigration application in U.S. District Court, where presiding Judge Gershwin Drain disallowed testimony about Odeh's torture and the post-traumatic stress disorder (PTSD) she suffered, saying they were unrelated to her lying on her immigration papers.
In 2015, the same U.S. District Judge Drain sentenced Odeh to 18 months in prison. "You lied under oath," Drain said, the Detroit Free Press reported. "She was a member of the Popular Front for the Liberation of Palestine. I think she was involved in some terrorist activity."
In fact, the only reason Odeh — one of the architects of the Day Without a Woman protest — was able to participate at all is because she is currently out on bail.
None of this information found its way into Meyerson's interview: "I didn't want to wade into a debate about Odeh," she told Mediaite.
If Meyerson did attempt to ask anything approaching a real question about Odeh, Sarsour would likely have repeated her many past statements of support for the convicted terrorist. The shallowness of Sarsour herself is readily apparent in her own painful defenses of Sharia law. The Islamic law code is widely used as a pretext to oppress millions of women throughout the Middle East.
@LaRebelleFleur shariah law is reasonable and once u read into the details it makes a lot of sense. People just know the basics

— Linda Sarsour (@lsarsour) September 22, 2011
You'll know when you're living under Sharia Law if suddenly all your loans & credit cards become interest free. Sound nice, doesn't it?

— Linda Sarsour (@lsarsour) May 13, 2015
… Actually it doesn't sound nice or reasonable. The above statements are little different than touting the benefits of smoking as a way to lose weight.
Ironically, the well-documented oppression of women under Sharia law stands in stark contrast to Israel, which, in any normal context, would be celebrated as a feminist trailblazer. While Hillary Clinton failed to break "the highest glass ceiling," Golda Meir did it in Israel back in 1969. While Palestinian women face honor killings, Israeli women are fully integrated members of society and not afraid to protest vocally when they feel their rights are being impinged.
"I was disappointed that Collier Meyerson's interview in The Nation with Linda Sarsour failed to address the actual concerns I presented in the New York Times," Shire told Mediaite.
Linda Sarsour talks a progressive game about women's rights, but terrorists like Rasmea Odeh kill innocent women every day. What about their right to live?
Feminism is a proud political movement which has brought great strides to women across the United States. It would be a terrible thing if that tradition of progress were to be hijacked by apologists for the very forces they profess to oppose.
[image via screengrab]
This is an opinion piece. The views expressed in this article are those of just the author.