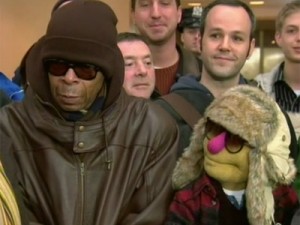 In what is by far the most important development in the ongoing morning show ratings battle, Today show superfan Linny Boyette has made the switch to rival morning program Good Morning America since the former began its Olympic broadcast from London. Boyette had been showing up to cheer on Today outside its midtown studio for two decades.
RELATED: GMA Enjoys Ratings Win Over Today Across Demos Before Olympics
"He has been there every morning this week," one ABC insider told us, adding, "we've seen him both on- and off-camera." Boyette even posed for a pic with Lara Spencer, Josh Elliott, Sam Champion and Amy Robach.
Boyette's dedication to the show had earned him a profile in the New York Times back in 2006, where he shared that he'd met members of the anchors' families, begins his mornings at 3:30 a.m. and has a favorite at the show… or had, anyway:
Mr. Boyette said he was particularly fond of Ann Curry, the show's news reader, and that he was saddened when she was passed over for Ms. Couric's spot. "She is an absolutely wonderful person, always has warm greetings," he said of Ms. Curry. "She would have been great." He knows little about the woman who was named to replace Ms. Couric, Meredith Vieira, but said his sister, a fan of Ms. Vieira's show, "The View," loves her. Mr. Boyette remained noncommittal: "We'll see."
Whether Boyette's switch to GMA is a temporary one during the Olympics, a long-term change in solidarity with Ms. Curry, or a harbinger of another six weeks of ratings slowdown, his move has made waves on the Facebook page dedicated to Boyette, with one observer noting that "I just saw Linny Boyette outside GOOD MORNING AMERICA instead of the Today Show. Wonder what's going on?" and another asking the page to "Change your opening to 'used' to watch Today and NOW see in audience at GMA!!!"
h/t NY Post
Have a tip we should know? tips@mediaite.com