Too Far? Facebook Has Started Sending Reminders to Users About When and Where to Register to Vote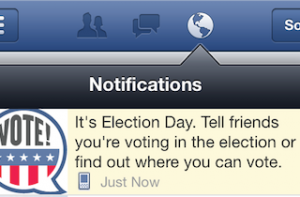 Remember when all you used Facebook for was comparing yourself to your ex's new lover and "humblebragging" about your cool new car or job while you secretly sat in the kitchen that doubled as your living room, surrounded by mismatched flatware and your grandma's old TV? In the past few years, social media profiles have gone from a far-removed, gilded representation of how users wish their lives really were to an integrated and normalized part of daily existence that no longer offers any distinction between fake and real, online and offline; it's all the same now.
Facebook creator and chief executive Mark Zuckerberg knows this. He knows because he is basically the driving force behind that shift. He knows that thoughtless tweets can have real-world ramifications on international business ventures because he designed it to be that way. More and more, he is pushing for Facebook and its ilk to be real life by integrating social consciousness and philanthropy into his business model and the site's interface. When you go to upload 26 of the three-month photos you hauled your baby to Sears for, you'll see "trends" on the side of the page. You can toggle between entertainment trends, political trends, science trends, and more. There are options to share if you're participating in a cultural event, like watching a certain sports game or awards show. In case of a large-scale disaster, you can even check in to let your family know you're okay.
All of that was fine. It wasn't designed to feel invasive. It was just there. Now, though, according to Government Technology, the website has embarked on "an effort to increase civic engagement through Facebook." They're doing this by displaying posts at the top of each page offering to help users learn if they're registered to vote.
This new feature rolled out in North Carolina, initially, then moved to other states like Louisiana. For voters to participate in the SC primary on March 15, for instance, they had to register by February 19, and Facebook wanted them to know. After all, posting a political screed for you 313 friends is great, but nothing can take the place of actually voting.
If you find yourself wondering if that doesn't cross a little bit of a line, consider this: Facebook Spokesman Alec Gerlach pointed out that the site does have a role in politics because it has been functioning as a way for constituents to instantly reach out to — and hear back from! — their representatives for years.
Also, it doesn't appear that the site is targeting one party over another. Those who click the link for registration are brought to vote.usa.gov, then simply redirected to their state's secretary of state registration page, according to NOLA.com. Party politics don't come into play until an unregistered voter makes the choice to register as one or the other. When the messages began to appear in Missouri, The Saint Louis Post-Dispatch noted that the messages were appearing on all of the news feeds for anyone over the age of 18.
Further evidence that this isn't all that invasive can be found in the smaller precedents set by the site. Facebook has offered services for finding the nearest polling place on numerous election days in the past and has included relatively benign banner messages urging users to "go vote!" upon signing in or opening their app on those days.
Still, being reminded to register may still be perceived by some as insulting or an overreach on the part of a site that caters to users' love for funny videos of animals and easy recipes. Choosing to share the "I voted" sticker on election days is different than being bombarded with registration questions. It remains to be seen how the reminders will be received by voters in other states and what this newest development will mean for American politics on the whole.
How will you feel when it starts happening in your state?
[image via screengrab]
For more from Lindsey, follow her on Twitter.
This is an opinion piece. The views expressed in this article are those of just the author.