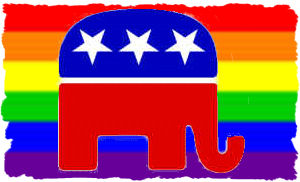 A memo sent out by a Republican pollster has been making the rounds online for its conclusion that the party needs to embrace gay marriage as part of its platform because of recent trends showing increased support for this important social issue. Jan van Lohuizen, who worked as a pollster for George W. Bush in 2004, made the case that the GOP should be fighting for gay marriage as a conservative issue, by emphasizing that "freedom means freedom for everyone."
RELATED: Gay Republicans On Obama's Gay Marriage Evolution: 'Cold Comfort to LGBT Americans'
The memo contains polling data showing that not only is support of gay marriage steadily increasing with the American people at large, but that a majority of Republicans now support "extending basic legal protections to gays and lesbians" like the repeal of Don't Ask, Don't Tell and hospital visitation rights for gay and lesbian partners. Van Lohuizen stresses that this position does not mean gays and lesbians would be given special treatment, but instead ensures they are given the same protections under the law as everyone else.
"People who believe in equality under the law as a fundamental principle, as I do, will agree that this principle extends to gay and lesbian couples; gay and lesbian couples should not face discrimination and their relationship should be protected under the law. People who disagree on the fundamental nature of marriage can agree, at the same time, that gays and lesbians should receive essential rights and protections such as hospital visitation, adoption rights, and health and death benefits."
He also explains how the GOP can frame support of gay marriage as a conservative issue.
"As people who promote personal responsibility, family values, commitment and stability, and emphasize freedom and limited government we have to recognize that freedom means freedom for everyone. This includes the freedom to decide how you live and to enter into relationships of your choosing, the freedom to live without excessive interference of the regulatory force of government."
h/t Andrew Sullivan
[Image via]
Have a tip we should know? tips@mediaite.com
Josh Feldman - Senior Editor