Trump Blasts NBC, CNN Over Summit Coverage: 'Our Country's Biggest Enemy is the Fake News'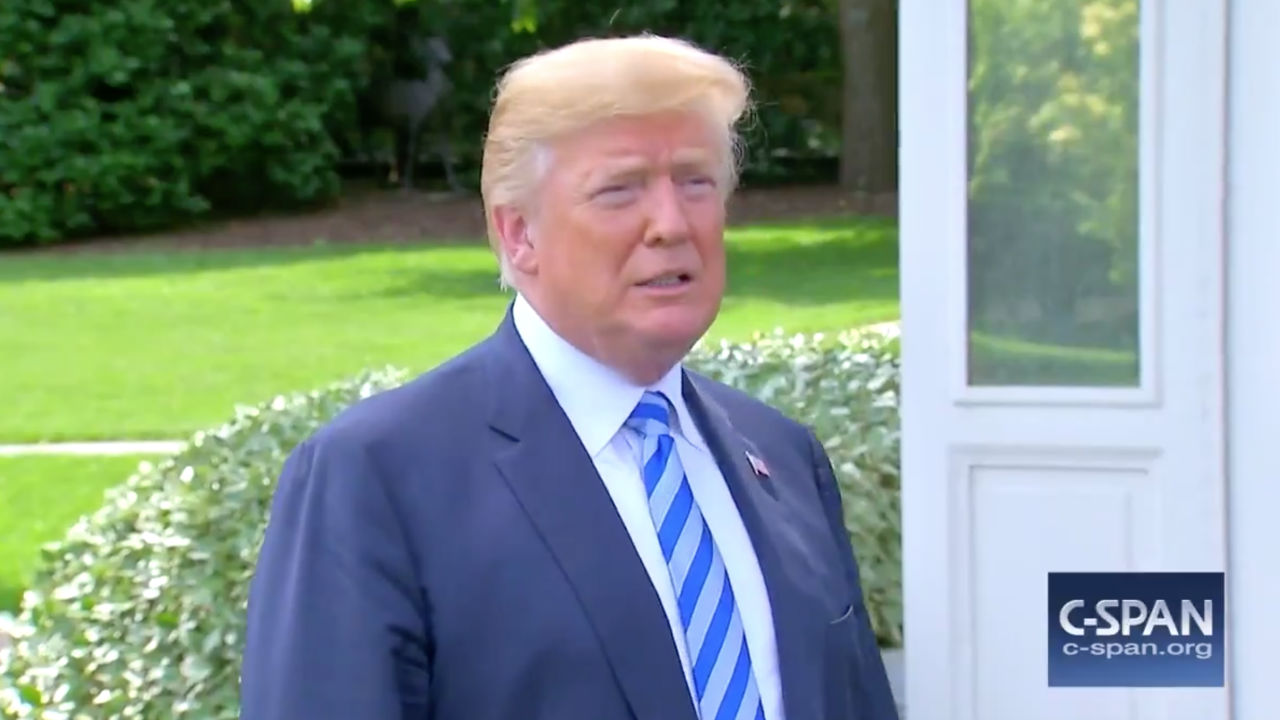 Here we go again.
Donald Trump has done a lot of tweeting this morning — most of which has revolved around his proclamation that North Korea is no longer a nuclear threat to the America.
Just landed – a long trip, but everybody can now feel much safer than the day I took office. There is no longer a Nuclear Threat from North Korea. Meeting with Kim Jong Un was an interesting and very positive experience. North Korea has great potential for the future!

— Donald J. Trump (@realDonaldTrump) June 13, 2018
Before taking office people were assuming that we were going to War with North Korea. President Obama said that North Korea was our biggest and most dangerous problem. No longer – sleep well tonight!

— Donald J. Trump (@realDonaldTrump) June 13, 2018
We save a fortune by not doing war games, as long as we are negotiating in good faith – which both sides are!

— Donald J. Trump (@realDonaldTrump) June 13, 2018
These tweets come after the president signaled that the U.S. won't hold any more defensive military drills in South Korea, even though the agreement he signed with Kim Jong Un doesn't outline a solid framework for North Korea's denuclearization, nor does it address their human rights abuses. Since we're talking about Donald Trump though, it was only ever a matter of time before he took shots at the media for their critical, skeptical reporting about how he handled the meeting with Kim.
Sure enough, in Trump's latest tweet, he just declared the "fake news" to be the "biggest enemy" to the United States.
So funny to watch the Fake News, especially NBC and CNN. They are fighting hard to downplay the deal with North Korea. 500 days ago they would have "begged" for this deal-looked like war would break out. Our Country's biggest enemy is the Fake News so easily promulgated by fools!

— Donald J. Trump (@realDonaldTrump) June 13, 2018
Again, this comes from Trump just days after he met with a ruthless, nuclear weapon-possessing tyrant who commits crimes against humanity and threatens to vaporize America on a regular basis. Then again, this wouldn't be the first time Trump has called the media the "enemy of the American people," so perhaps this isn't very surprising.
[Image via screengrab]
— —
>> Follow Ken Meyer (@KenMeyer91) on Twitter
Have a tip we should know? tips@mediaite.com