Trump Boasts Approval Ratings With African Americans Have Doubled (They Have Not)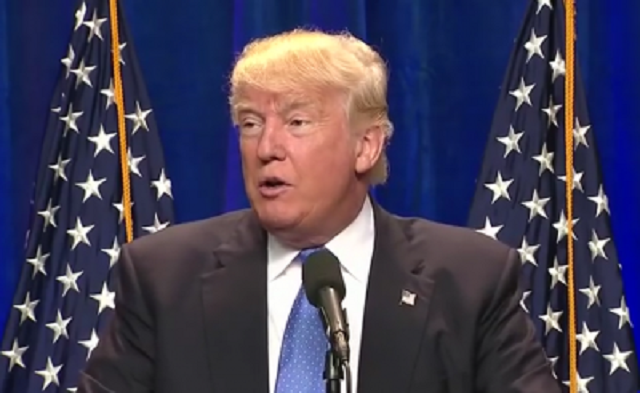 President Donald Trump got back on Twitter this morning, and at one point, he issued a bit of misleading information about a supposed boost in his approval ratings.
The president got the most out of his "Executive Time" today, issuing statements about several of his favorite talking points. (Many of these subjects came up on today's Fox & Friends, in case you were wondering)
We must have Security at our VERY DANGEROUS SOUTHERN BORDER, and we must have a great WALL to help protect us, and to help stop the massive inflow of drugs pouring into our country!

— Donald J. Trump (@realDonaldTrump) January 16, 2018
The Democrats want to shut down the Government over Amnesty for all and Border Security. The biggest loser will be our rapidly rebuilding Military, at a time we need it more than ever. We need a merit based system of immigration, and we need it now! No more dangerous Lottery.

— Donald J. Trump (@realDonaldTrump) January 16, 2018
Do you notice the Fake News Mainstream Media never likes covering the great and record setting economic news, but rather talks about anything negative or that can be turned into the negative. The Russian Collusion Hoax is dead, except as it pertains to the Dems. Public gets it!

— Donald J. Trump (@realDonaldTrump) January 16, 2018
One tweet that stood out though was this:
Unemployment for Black Americans is the lowest ever recorded. Trump approval ratings with Black Americans has doubled. Thank you, and it will get even (much) better! @FoxNews

— Donald J. Trump (@realDonaldTrump) January 16, 2018
As quite a few responders on Twitter pointed out, the president's approval rates among African Americans have not doubled, and they're actually still quite low:
Trump approval with blacks in latest @CNN poll: 3% approve, 91% disapprove https://t.co/2f6HywZy5u

— Ryan Struyk (@ryanstruyk) January 16, 2018
Per DOJ and the courts, this official statement is not necessarily based in fact. https://t.co/ZHzrryXy0G

— Bradley P. Moss (@BradMossEsq) January 16, 2018
This isn't true – just more bullshit from @foxandfriends ?

— Montel Williams (@Montel_Williams) January 16, 2018
Gallup: Trump's approval rating with black voters is 6 percent https://t.co/e9J2ztYysr https://t.co/f0ycBbaXvZ

— Eugene Scott (@Eugene_Scott) January 16, 2018
It would seem that Trump's approval ratings quote is a spin based on a recent Breitbart piece that positively compares his 2016 vote share to his approval ratings.
Among black men, Trump's "2017 average approval rating significantly exceeds his 2016 vote share," admitted a January 11 article in the Atlantic by author Ronald Brownstein. "23 percent of black men approved of Trump's performance versus 11 percent of black women," said the article.

That score averages out to 17 percent, or twice the 8 percent score he was given in the 2016 exit polls.
As Washington Post explains, the problem with Brietbart's article is that it draws misleading averages from the data collected by SurveyMonkey and CBS, which were then compared to exit polls from the 2016 election. Even though Trump's approval rating as a candidate was enough to topple Hillary Clinton, many of the surveyed voters do not have a favorable opinion of his job in office.
The Breitbart piece cites an article written by The Atlantic's Ron Brownstein, which was headlined The Voters Abandoning Donald Trump. Brownstein noticed that Trump's approval among African American men is double his rating among black women, though a 2016 vote share of 13 percent is not a particularly difficult number to improve upon.
It's also unlikely that Trump's approval ratings will go up at the moment, since he's still dealing with the controversy surrounding his remarks about "people from sh*thole countries."
[Image via screengrab]
— —
>> Follow Ken Meyer (@KenMeyer91) on Twitter
Have a tip we should know? tips@mediaite.com