Trump Built a Wall Along His Scottish Golf Course and Tried to Force Residents to Pay For It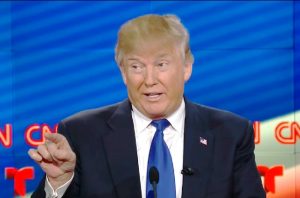 One of President-elect Donald Trump's biggest campaign promises was that he was going to build a big beautiful wall along America's southern border and and make Mexico pay for it. it was a mantra that was repeated over and over again at his rallies.
Well, it appears Trump has already tried this strategy once before, to decidedly mixed results.
The New York Times reported that neighbors of Trump Scottish golf course, Trump International Gold Links, were sent a bill for a fence built along their property. The residents refused to sell their homes, so Trump put up the fence and trees to block their view.
David and Moira Milne had already been threatened with legal action by Mr. Trump's lawyers, who claimed a corner of their garage belonged to him, when they came home from work one day to find his staff building a fence around their garden. Two rows of grown trees went up next, blocking the view. Their water and electricity lines were temporarily cut. And then a bill for about $3,500 arrived in the mail, which, Mr. Milne said, went straight into the trash.

"You watch, Mexico won't pay either," said Mr. Milne, a health and safety consultant and part-time novelist, referring to Mr. Trump's campaign promise to build a "beautiful, impenetrable wall" along the border and force the Mexicans to pay for it.
The couple said they now fly a Mexican flag at their house, which currently overlooks the golf course's clubhouse.
Another couple who also refused to sell to Trump said that a 15-foot high earth wall was built along two sides of their property. One resident, Michael Forbes, has been personally attacked by Trump and flies a 'Hillary for President' flag at his home.
The NYT also noted that investment in the golf course never approached the promised $1.25 billion, instead stalling at $50 million. Also, the 6,000 jobs that were supposed to materialize in reality only resulted in 95. The golf course lost $1.36 million last year and Trump has spent much of his time feuding with local politicians and residents over things such as wind turbines, protected sand dunes and his guarantees of job creation.
The neighbor with the earth wall built around his property explained that Trump "has a thing about walls" and he hopes the American people have a "better experience" than the Scottish town.
Watch video above, via New York Times.
[image via screengrab]
–
Follow Justin Baragona on Twitter: @justinbaragona
Have a tip we should know? tips@mediaite.com