Trump Heaps Praise Upon Rodrigo Duterte for Doing an 'Unbelievable Job on the Drug Problem'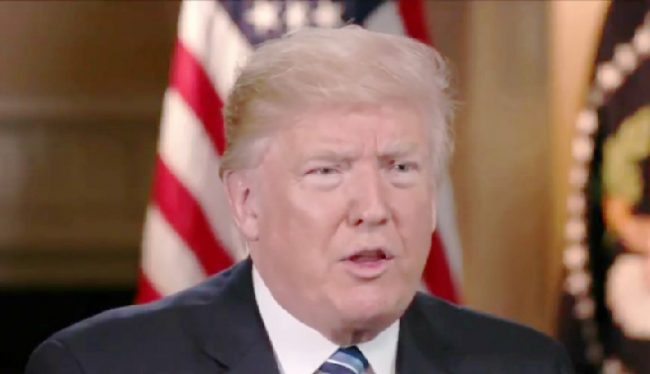 Well, we may not have gotten a super huge bombshell from the Washington Post in the early evening hours today, something we've all grown far too accustomed to over the past couple of weeks, but they still came through with a pretty nice scoop.
According to a transcript made by the Philippine government, President Donald Trump told Phillippines President Rodrigo Duterte that North Korean leader Kim Jong Un is a "madman with nuclear weapons." This came just a few days after Trump had stated that he'd be honored to meet with the Kim Jong Un.
However, perhaps the biggest revelation in the piece is the praise he heaped on Duterte for the way he's dealing with drugs in his country:
Since taking office in June, Duterte has moved to hedge on the Philippines' long-standing defense alliance with the United States by establishing closer relations with China. And his administration has overseen a brutal extrajudicial campaign that has resulted in the killings of thousands of suspected drug dealers.

Trump has not spoken out against that strategy, and in their call he praised Duterte for doing an "unbelievable job on the drug problem."

"Many countries have the problem, we have the problem, but what a great job you are doing and I just wanted to call and tell you that," Trump said, according to the transcript
In response to Trump's kind words about his extra-judicial killing policy, Duterte called drugs the "scourge of my nation" while saying he had to do something to preserve his country. Trump then used that answer to take a veiled shot at Barack Obama.
"I understand that and fully understand that and I think we had a previous president who did not understand that," he stated.
Earlier this month, after it was reported that Trump had invited Duterte to the White House, White House Press Secretary Sean Spicer was grilled on Trump's tendency to admire totalitarian leaders.
[image via screengrab]
—
Follow Justin Baragona on Twitter: @justinbaragona
Have a tip we should know? tips@mediaite.com