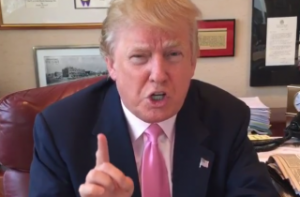 Donald Trump is still pretty upset about the "rigged" GOP delegate system, and in an interview with The New York Times, he talked about a "serious legal challenge" to the system.
He went on his usual spiel about how the system is "a disgraceful, disgusting rigged system" that's even worse than Democrats and their superdelegates. He's not fond of a system "where you can buy the delegates if you want," directly going after Ted Cruz for using the "corrupt system" as a means of staying afloat.
Trump admitted that if he wanted to play that game, he could "fly them on a 757 to Mar-a-Lago, I can fly them to California where I own a place that's unbelievable, on the Pacific Ocean."
But he doesn't like politicians "buying the system" and he hinted at taking legal action against it:
"It's a bad system. You're buying the election. It's really wrong, and I'm looking into it, legally…

"I don't like the process of it — you're buying the election. I'm not ruling anything out, but I'll tell you what — I think that there's a serious legal challenge to all of this, and it starts with the 'super PACs.' This is a very serious dilemma for the Republican Party."
Just a few days ago, Trump was saying he's lost delegates because he doesn't want to buy anyone off.
The Donald also took credit for how he's been able to force conversations on big issues from new angles because of his willingness to say things other Republicans won't.
"It's like the paper clip," Trump said. "Nobody thought about the paper clip except for the guy that thought of it, and he became rich. And everyone else said, 'Why didn't I think of that idea?'"
You can read the full interview here.
[image via screengrab]
— —
Follow Josh Feldman on Twitter: @feldmaniac
Have a tip we should know? tips@mediaite.com
Josh Feldman - Senior Editor