Trump: I Disparage Women for 'Entertainment' but It Would Be 'Very Easy' to Stop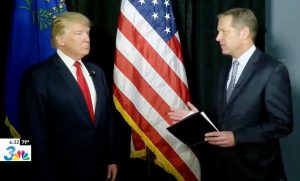 For the purpose of being thorough, let's review some of what Donald Trump has said about women. It's important because we're about to discuss the fact that he told a local reporter in Nevada that he could stop disparaging them whenever he felt like it. Here are some times he did not feel like it:
1. Trump maintained a sustained attack on former Miss Universe Alicia Machado because she gained weight.
2. Trump publicly spoke about his interest in sleeping with Princess Di.
3. Trump said there should be some type of "punishment" for women who get abortions.
4. Trump has said a number of things about his daughter Ivanka Trump that have been widely considered too sexual. (The Concourse has a complete list here that is worth noting.)
5a. Trump launched a moths-long feud with Megyn Kelly after she asked him about his crude comments toward women at a debate.
5b. Trump openly wondered if Kelly was on her period after that.
There are more examples. The AP has given us more. Hillary Clinton has compiled bunches more.
The point is that there are a lot of documented instances of Trump saying and doing things that are widely interpreted as sexist. Few close to the mogul know why he continues to be so brazen with remarks like that, considering female voters don't tend to like it. Even Bill O'Reilly has cautioned the candidate against alienating anymore women.
In an interview with KSNV News3LV in Las Vegas, Trump spoke to Jim Snyder, who asked, "You have two beautiful daughters past their teenage years. Can you understand the concern from parents of younger girls that some of your comments could be hurtful to girls struggling with body image and the pressure to be model perfect?"
Trump responded this way:
A lot of that was done for the purpose of entertainment; there's nobody that has more respect for women than I do.
In a segment cut from the broadcast but included on the web transcript, Snyder pressed again, asking if the candidate is going to try to tone down his rhetoric in the final days before the election. Trump said, "It's not a question of trying; it's very easy."
We will see if the associated ease means Trump will lessen those types of comments in the coming weeks.
[image via screengrab]
Have a tip we should know? tips@mediaite.com