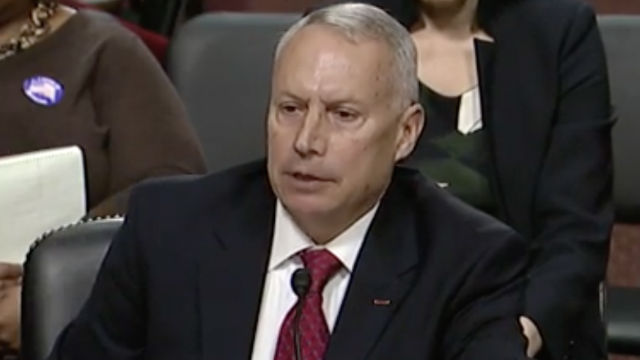 Breaking from the Trump administration's pro-gun script, Dean Winslow — the president's nominee for a high-ranking Pentagon spot — suggested the civilian purchase and subsequent use of semiautomatic assault rifles is "insane."
"I'd also like to, and I may get in trouble with other members of the committee, just say how insane it is that in the United States of America a civilian can go out and buy a semi-automatic assault rifle like an AR-15," said Winslow — referencing the type of rifle the Texas church shooter used, as well as the Sandy Hook, Aurora, and Orlando shooters. The AR-15 is the semi-automatic counterpart of the US military's M-16 rifle and the nation's #1 selling gun.
Winslow, who is up for a top job at the Defense Department's health affairs desk, made these pro-gun control comments during his confirmation hearing today, as Democratic Senator Jeanne Shaheen questioned him about the Sutherland Springs, Texas shooing that took the lives of 26 on Sunday.
After Winslow made the remark about semi-automatic rifles, GOP Senator John McCain — who is the chairman of the Senate Armed Services Committee — told him off, saying, "I don't think that's in your area of responsibility or expertise."
According to Vox, Winslow lambasted the Air Force for not properly reporting Devin Patrick Kelley's criminal record — which would have stopped him from purchasing the rifle he used.
Trump, who is responsible for nominating Winslow, has come out after the Texas church massacre to suggest the incident had nothing to do with gun-control and instead was a mental health problem.
You can watch the relevant video here (starting at the 1:17:00 mark).
[featured image via screengrab]
Follow the author on Twitter (@calebecarma).
Have a tip we should know? tips@mediaite.com