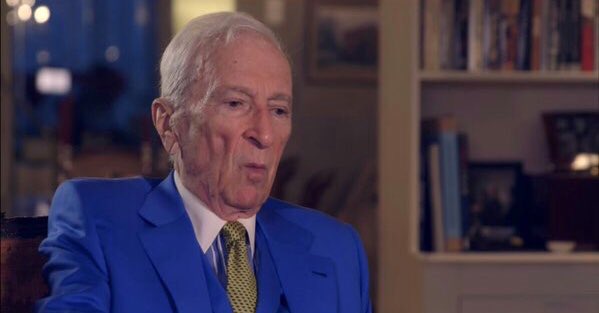 Famed author and journalist Gay Talese has a message for all the alleged victims of actor Kevin Spacey's sexual misconduct: "Suck it up."
In a Vanity Fair piece, Talese expressed interest in profiling the disgraced American Beauty and House of Cards star. The writer — who is famous for his flagship profiles "Frank Sinatra Has a Cold" and "The Silent Season of a Hero" — reportedly said to Vanity Fair, "I would like to talk to Kevin Spacey."
Talese went on to make the shocking "suck it up" remark about the Hollywood star's alleged victims — some who claim to have been as young as 14-years-old when Spacey made sexual advances toward them. "I feel so sad, and I hate that actor that ruined this guy's career. So, okay, it happened 10 years ago… Jesus, suck it up once in a while!" Said Talese.
Adding, "I would like to ask [Spacey] how it feels to lose a lifetime of success and hard work all because of 10 minutes of indiscretion 10 years or more ago."
His defense for Spacey — who is currently away from the film industry seeking "treatment" — was the classic "whom among us hasn't" excuse.
"You know something, all of us in this room at one time or another did something we're ashamed of. The Dalai Lama has done something he's ashamed of. The Dalai Lama should confess . . . put that in your magazine!" Said the writer.
Since the initial allegation against Spacey, his accusers have reached double-digits, as eight Netflix employees, a then 15-year-old actor, Harry Dreyfuss, and others have all come forward against him. Additionally, his current primary project — Netflix's award-winning drama House of Cards — has completely cut ties with Spacey.
[featured image via screengrab]
Follow the author on Twitter (@calebecarma).
Have a tip we should know? [email protected]