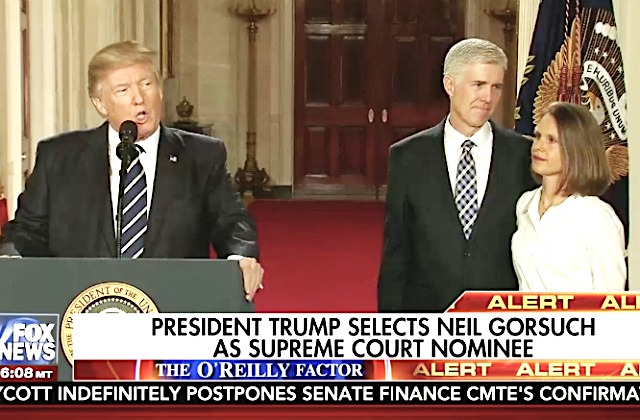 After having narrowed down the biggest decision of his early presidency to two finalists, and seemingly had them come to the nation's capital for the most serious version of a "Final Rose" ceremony in United States history, President Trump has chosen Neil Gorsuch to be nominated to the Supreme Court. While I could have done without the degrading reality TV faux drama (I hear Gorsuch wore a red dress, while the other finalist, Thomas Hardiman, who is more moderate, went with purple), I have to give Trump a lot of credit. He has made the right choice both politically and philosophically.
I have previously predicted/feared that Trump would nominate a hard-right candidate (like William Pryor from Alabama) with a profile which would allow the Democrats to successfully filibuster him and that Trump would eventually tire of the fight, eventually caving for a more moderate selection. Once it became clear that Pryor was out, I then feared that Hardiman (a relative unknown quantity and likely moderate), thanks to his relationship with Trump's sister, would get the nod and that effectively Trump would have surrendered right from the start without even pretending to fight.
By picking Gorsuch, Trump has taken a giant step in fulfilling his most important campaign promise, which was to replace Antonin Scalia with someone from the same conservative mold. The best part is that, thanks to Gorsuch's qualifications and inoffensive background (it's amazing how much tougher it will be for Democrats to torpedo someone from Colorado, as opposed to Alabama), it will be, unless a scandal emerges, extremely difficult, and possibly counter-productive for the Democrats to ultimately block him.
The bottom line is that, barring unforeseen circumstances (always a possibility when Trump is involved), while Chuck Schumer and the Senate Democrats will have to put on a show, and will surely delay his selection for as long as they can, it is very likely that Gorsuch will eventually be Scalia's long-awaited replacement. For conservatives, who about a year ago were convinced that Scalia's sacred slot would be filled by either Barack Obama or Hillary Clinton, that will be like finding a cherished family heirloom which you thought had been lost forever in a move to a new house.
Politically, this move, whether by design or accident, is rather brilliant. Trump will now have earned the loyalty of millions of philosophical conservatives who have been at least somewhat (many of us far more than that) skeptical of the guy I have referred to often, correctly I still believe, as a liberal conman.
There is an old joke that men are like kitchen tile… if a woman lays them right the first time, she can walk all over them for the rest of her life. In this case, if Gorsuch gets approved, then Trump will have satisfied conservatives in a way which will allow him an enormous amount of leeway when he inevitably craps all over conservatism for the next several years.
Trump also gets points here by not choosing Hardiman. Not just because he was seen as the far less reliable conservative choice, but also due to the fact that it was widely reported that his (very liberal) sister, who is also a judge, had recommended him. With all of the massive conflicts of interests which the Trump family has already, it sends an important message that, at least out of the gate in a huge decision, those didn't ultimately rule the day.
From the perspective of the Supreme Court, however, much like with all the bluster over Trump's initial executive orders, not much, if anything, is going to dramatically change in the short run. The balance of the court would remain basically exactly the same as it was a year ago.
While Gorsuch's nomination will spark a "fight," it will mostly be to let the Democratic base get its rocks off (though the fact that Trump just today had to cancel a trip to Wisconsin because of fear of protests, shows that he might be bleeding already). The real battle will come if Kennedy or Ginsberg retires. That will be all-out war.
As a conservative, the vast majority of my objection to the Trump was based in the premise that, while he would clearly end up doing some good and maybe even great things, the long-term price we were all being forced to pay was both way too high and quite unnecessary.
In that sense, for conservatives, buying into Trump was a lot like doing so with a Florida timeshare property, which is almost never a good investment. If Gorsuch gets confirmed to the Supreme Court, at least we will always have that week where we had great weather in January to think about, even as we pay the hefty bills for it all for many years to come.
— —
John Ziegler hosts a weekly podcast focusing on news media issues and is documentary filmmaker. You can follow him on Twitter at @ZigManFreud or email him at johnz@mediaite.com.
— —
This is an opinion piece. The views expressed in this article are those of just the author.