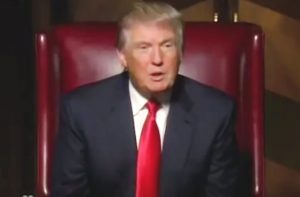 As the press continues to dig into Donald Trump's Apprentice past, there are new allegations of behavior he engaged in around deaf actress Marlee Matlin.
First, former contestant Richard Hatch claimed to People that he observed Trump "making sexual comments to Marlee Matlin, to all of the women on the Apprentice."
Matlin, who competed on Celebrity Apprentice in its 11th season and ended up coming in second to country singer John Rich.
But now there's a new report from The Daily Beast in which several sources claim that Trump "repeatedly" referred to her as retarded:
"[Trump] would often equate that she was mentally retarded," said one source, who described how kind Matlin and her interpreter Jack Jason were.

During the taping of the show, Trump would often scribble down notes while sitting at the table of "the boardroom"—the show's primary set. A person familiar with the notes who helped clean up after tapings said that on one of the pieces of paper, Trump wrote: "Marlee, is she retarded??"
One person who worked on the NBC show says Trump made fun of her voice one time, explaining, "Like, to make it seem like she was mentally not there? [It] sounded like he got a real kick out of it. It was really upsetting."
Another former employee is more descriptive:
"In the boardroom, he would talk to her like she was 'special,'" the source said. "He took her deafness as a some kind of [mental] handicap." The staffer recalls sitting in the control room during the shoot for one episode and being taken aback hearing Trump make an "insensitive" comment about Matlin's deafness to the actress while she was seated across the boardroom table.

"She responded [to him], she stood up for herself," the source said. (This exchange was not included in the final cut of the episode.)
Now, if you're wondering if this is a word Trump ever used in public, there's a 2004 interview with––surprise surprise––Howard Stern in which The Donald said, "I know I was criticized in one magazine where the writer was retarded."
And, of course, there was that infamous mocking of a disabled reporter last year.
[image via screengrab]
— —
Follow Josh Feldman on Twitter: @feldmaniac
Have a tip we should know? tips@mediaite.com
Josh Feldman - Senior Editor