Trump Spox on Past Ex-Wife Allegation: Legally, 'You Can't Rape Your Spouse'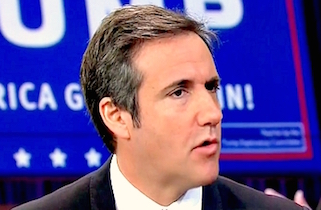 A pretty huge Daily Beast report tonight about Donald Trump's ex-wife once alleging rape includes a pretty remarkable statement from Trump spokesman and special counsel Michael Cohen to the reporters.
The Daily Beast report goes through how years ago, Ivana Trump alleged that her husband raped her. A 1993 book on Trump's life said that Trump grabbed his wife, tore her clothes off, and assaulted her. Author Harry Hurt III wrote, "According to versions she repeats to some of her closest confidantes, 'he raped me.'"
Ivana Trump ended up releasing a statement years later saying while she did feel violated, she didn't want her use of the word rape "interpreted in a literal or criminal sense."
But a lot of the post features comments from Cohen, who sent a very clear threat to the reporters involved:
"I will make sure that you and I meet one day while we're in the courthouse. And I will take you for every penny you still don't have. And I will come after your Daily Beast and everybody else that you possibly know," Cohen said. "So I'm warning you, tread very fucking lightly, because what I'm going to do to you is going to be fucking disgusting. You understand me?"

"You write a story that has Mr. Trump's name in it, with the word rape, and I'm going to mess your life up… for as long as you're on this frickin' planet… you're going to have judgements against you, so much money, you'll never know how to get out from underneath it," he added.
But the other comment getting lots of attention tonight is Cohen's remark about marital rape:
"You're talking about the front-runner for the GOP, presidential candidate, as well as private individual who never raped anybody. And, of course, understand that by the very definition, you can't rape your spouse."

"It is true," Cohen added. "You cannot rape your spouse. And there's very clear case law."
Needless to say, that's gotten a lot of blowback:
So @MichaelCohen212: name the applicable, currently valid caselaw supporting your claim about marital rape. Borrow my flashlight if you like

— Popehat (@Popehat) July 28, 2015
Michael Cohen is a huge, classy attorney of a lawyer.

— John Podhoretz (@jpodhoretz) July 28, 2015
I don't think this will hurt Trump's poll numbers, but it does make it less likely that Trump will make Michael Cohen his Attorney General.

— Josh Barro (@jbarro) July 28, 2015
"Donald Trump's attorney, pictured below, said …" pic.twitter.com/YqHE4dMhNr

— Marcus Gilmer (@marcusgilmer) July 28, 2015
Trump '16: "I will pay the lowest amount in attorney's fees, and pass the savings on to YOU!"

— Jonathan Chait (@jonathanchait) July 28, 2015
I'm agog that Trump's attorney just claimed there's no such thing as spousal rape when YES THE HELL THERE IS. It's called rape. Period

— Lauren Dane (@laurendane) July 28, 2015
.@realDonaldTrump Hey man … pic.twitter.com/AXtgsH4UBc

— CJ Ciaramella (@cjciaramella) July 28, 2015
[image via screengrab]
— —
Follow Josh Feldman on Twitter: @feldmaniac
Have a tip we should know? tips@mediaite.com
Josh Feldman - Senior Editor