Trump Spox Won't Budge on Trump's Fake PR Guy, Racist Supporters, or Withholding Tax Returns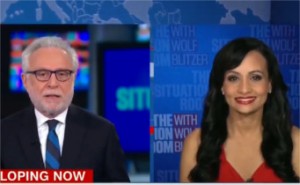 In an interview with CNN's Wolf Blitzer, Trump spokeswoman Katrina Pierson gave no quarter on three issues currently dogging the GOP presumptive nominee's campaign.
First, she asserted that the eerily Trump-like voice of Trump's PR person, from audio recorded in 1991 and recirculated Friday, is not Trump.
"Despite the fact that Trump himself said he used to use a fake name occasionally […] despite the fact that in a court hearing he said he did so, you're still saying the voice on that tape is not him?" Blitzer asked.
"That's exactly what I'm saying, Wolf," Pierson replied.
"All right then," Blitzer said. "Let's move on."
The conversation then segued to a discussion of Trump's ex-butler suggesting that President Obama should be hanged, the fact that a white nationalist ended up as one of Trump's delegates in California, and the support for Trump coming from the former KKK leader David Duke.
"You can't control the actions of everyone else," Pierson said. She claimed that media outlets were creating sock puppet white supremacist Twitter accounts pretending to be Trump supporters. "These types of things happen in politics. People say and do weird things. And Mr. Trump can't control everything."
The discussion then moved to Trump's tax returns, which he has cagily resisted releasing. Pierson confirmed that Trump's campaign would not be releasing his tax returns until his audit had concluded — echoing comments Trump had made to the AP, saying that he would not release the tax returns prior to the general election in November.
"As we've seen, if there's no news, we'll just make it up as we go — so why give into that?" Pierson said, by way of defending Trump's decision not to release his returns.
[image via screengrab]
Have a tip we should know? tips@mediaite.com